Yesterday I wrote a post about five terrible guns you should never buy; noticeably absent from the list were Hi-Points. While I'm not a big fan of the Hi-Point, I do believe that they serve a valuable purpose in the gun market: if you absolutely need a gun for self-defense right now and only have 100 bucks, a Hi-Point will probably get through an entire magazine. I'd recommend a Hi-Point over a Taurus or a Kel-Tec, because those guns cost 300 bucks, and for 300 bucks you could buy a real gun. But that's neither here nor there, because in yesterday's post, despite it not mentioning Hi-Points in a negative light, one of the Knights of Ohio showed up to defend Hi-Point pistols.
Steve – I have got to say, Hi Points are cheap and ugly, but the damn things seem to function over and over. I watched a dude win 3 consecutive steel matches with a 9mm hi point. I won't personally buy one, but I have to say, they go bang when asked to…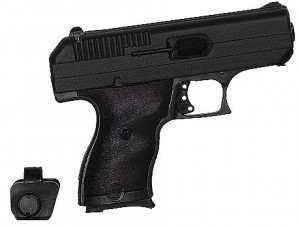 That got me to thinking: where are all these high round count Hi-Points? Every time there's a Hi-Point thread, someone will pipe up that they have upteen bajillion rounds on their Hi-Point, or that some guy just ran his at a match and did ok. That's all well and good, but I've seriously never seen a Hi-Point in the wild at a match, or even at a gun range (except for ironic use by gun hipsters). Even our own test gun went just 2000ish rounds and had numerous failures during that cycle.
A brief conversation with Shelley Rae reveals that during her time as a range manager, she saw more than a few Hi-Points through the range, but at the same time, not nearly enough to account for all these reports of incredibly high round count guns.
So here's my challenge: Do you own a Hi-Point? Have you shot it a lot? If you have an actual documented record of the rounds you've shot through your Hi-Point, send it to me at [email protected] and I'll post here on Gun Nuts. I want to see these high round count guns!