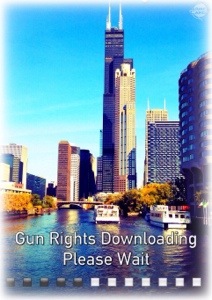 Earlier this week I posted about my trip to Chicago, IL and my plans for self protection while there. Many of you had recommendations for every day carry items that I might use to keep myself safe, and I am grateful. However, Illinois recently passed concealed carry legislation that will change the self defense opportunities for Chicago residents, and I wanted to take a look at what these new laws have to say.
First, we must remember that while HB183 passed the Illinois house in June of 2013 concealed carry licenses are not yet available in Illinois. The Illinois State Police website claims that applications will be available starting the middle of January 2014, but because of the government shutdown a delay would not surprise me.
Second, the permitting process in Illinois will require training from an instructor specifically approved by the State Police. The course is at least 16 hours and has many facets. I can imagine that, for many, two days of classes will be something of a hardship. Also, from my knowledge of enrollment fees for two to four hour intensive firearm classes, I worry that the cost of these courses may add up exponentially. Tack this cost onto the $150 fee that Illinois plans to charge for the resident license and a CCL may become unattainable for most.
As a non-resident, I will have the option of obtaining a Illinois CCL, but for me the fee will be $300. Also, I will have to obtain the same 16 hours of training, and on top of all that I will be required to show that I am a concealed carry permit holder for my state of residence. So what are my other options when it comes to defense in Chicago? We already discussed a few on Monday and while flashlights, knives and tasers are all good suggestions, the Illinois statutes are strangely silent on these "weapons."
Unlike my Georgia Firearms License, Illinois' CCL does not acknowledge other forms of "weapons" accept to say that the law's reference to a "handgun" cannot be construed as meaning a "machine gun," "taser" or "B-B gun." (Well thanks for clearing that up!) This was my third trip to Chicago and though I enjoyed the city before, this time I officially fell in love. It's a great city with all the activities and excitement of a big city, but all the warmth I appreciate from midwestern folks. The changes in gun legislation further my belief that Chicago is a town in which I would be happy to live. While it's exciting to see Chicago citizens regaining their rights, I will wait for licensing to officially begin before fully passing judgement, (or signing up).