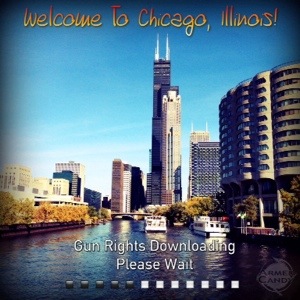 I've been working hard lately to regularly carry concealed. While spending a week in an unfamiliar Georgia city my CCW was in my purse every day. When running around my home turf of Atlanta I prefer using a small-of-the-back holster, although I may alternate to my purse if I'm jumping in and out of the car excessively. It's easier to carry in the fall and winter because layered shirts and jackets help to prevent printing. However, I often find myself checking that the back of my shirt hasn't rolled up and tucked behind my gun. If anyone were paying attention I'd be blowing my cover. But today I wake up in The Windy City with no gun to strap on because Illinois is still working to put in place the gun rights that they recently gave back to their citizens. What can I do to keep safe while unarmed? What lessons can I take from carrying concealed and apply when my primary weapon must stay at home?
Avoid the clump – While in Chicago, I am traveling with a large group of people. We will be eating in restaurants, walking on streets and piling into taxis, and at certain points there my be upwards of twenty of us. It may seem counter-intuitive, but when these are my circumstances I tend to walk slightly separate from the group. I find that the familiarity can often cause me to relax and let down my guard. If someone is moving closer to me, or about to bump into me, I want to be on alert rather than assuming that it is someone in my party.
Less talking, more walking – The group with whom I am traveling is likely to be loud and excited, but the more wrapped up in conversations we get the less aware of our surroundings we will become. Maybe it will seem a little anti social if I walk slightly separate from the group, but I think the benefits are worth it. Further, knowing where we are headed is equally important. Tourists tend to make easy targets for criminals because they are distracted and overwhelmed, but if we move down the street with a bit more purpose, we can sightsee safely.
Does wearing an empty holster make me smarter or just a gun geek? – I have noticed that when I'm wearing my gun I am reminded of the responsibility of carrying and the need for situational awareness. So even though I can't conceal carry in the state of Illinois, maybe I can trick myself into operating in the same way. Maybe this is a silly idea, but isn't the first step to not being victimized not appearing to be an easy victim?