FORT SMITH, Arkansas (October 29, 2013) Building on the great heritage of the original PPQ, Walther Firearms introduces its new 5-inch barrel version of the PPQ M2. Chambered in either 9mm or .40 S&W, the PPQ M2 5" is a striker fired action pistol with a smooth Quick Defense® Trigger. It's pre-cocked with a constant trigger pull of 5.6 pounds for greater control, accuracy and reset.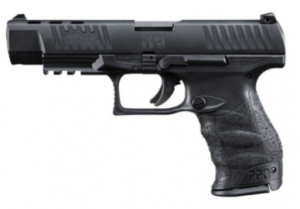 Standard with every PPQ M2 series handgun are three interchangeable grip backstraps so the user can custom fit it to his unique hands and grip. To reduce weight and increase balance, the barrel housing has non-functioning vents.
With its sleek design, Matte Black finish and ergonomically-designed Walther grip, the new PPQ M2 5" is an ideal competition gun but would also be a good choice for personal defense and home protection.
With an overall length of 8.1 inches and a barrel length of 5 inches, this lightweight German-engineered pistol is suited for either right or left handed shooters as the traditional button magazine release is reversible and easily accessed from either side. The slide stop is also ambidextrous and extended for convenient and safe manipulation when wearing gloves. The new model only weighs 23 ounces and has a magazine capacity of 15 rounds for the 9 mm model and 11 rounds for the .40 S&W version.

Accuracy and safety are paramount so all PPQ M-series pistols have 3 automatic safeties and 3-dot metal sights. The manufactured suggested retail price for the Walther PPQ-M2 5″ is $ 749.
Primary Use: Target; Competition Shooting; Personal Protection; Duty Pistol;
About Walther Arms
Entering its 130th year, Walther has earned the trust of law enforcement professionals, recreational shooters, and athletes through its line of reliable pistols and tactical rimfire replicas. Walther Arms manufactures and markets firearms of various calibers ranging from .22 to .40. For more information, visit www.WaltherArms.com