Edited January 26, 2016: I mentioned Kydex loops, but that is not true.  ABS thermoset plastic loops are acceptable.  Kydex loops break as easily as Kydex clips.
With this article I will wrap up my Folly of Chasing Gear series with a focus on CCW holsters and belts. I been rather fortunate when it comes to holsters and belts as sheer luck has kept me from making too many bone head choices. Nevertheless, here are some things to take away.
Nylon Holsters:
I have owned exactly one of these affronts to humanity. In fact, I actually owned it prior to getting my Concealed Handgun License. The sole purpose for this holster was to carry my jam-o-matic Rock Island 1911 when hunting.  I tricked it up with a drop attachment to maximize its worthlessness and leave no doubt that I was ignorant and inexperienced.
The result is that I was knowledgeable enough to avoid Uncle Mike's when I got my CCW.  Unfortunately a lot of people don't. My recommendation? AVOID NYLON HOLSTERS AT ALL COST.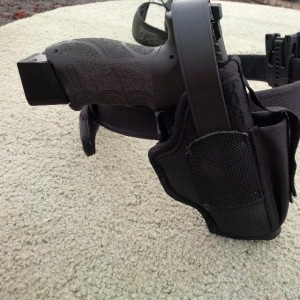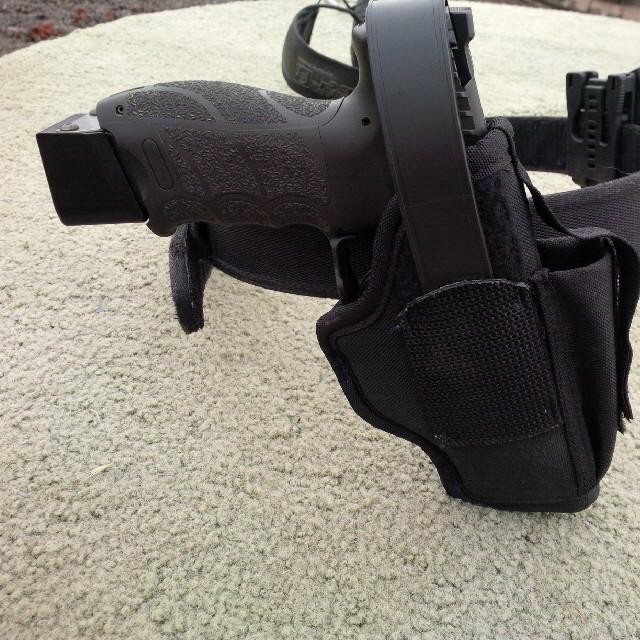 Nothing says "Well thought out holster" like nylon
Lesson: You shouldn't put your $400 gun in a $15 holster and then expect it to carry or have similar retention as a quality holster.
Fobus:
About 7 years ago I actually bought a Fobus holster solely to destroy it. I had seen videos where people had sheared them off of the mount and wanted to try it for myself. Those videos are indeed true, the holster is easily broken off its mount. Fobus is made from the cheapest plastic one could choose for injection molding and they are easily broken off of a belt. Fobus is craptastic.
Lesson: Avoid cheap plastic holsters, especially Fobus.
Remora / Sticky Holsters:
I actually keep a couple of these around because they serve a purpose; and within the realm of what they do, they work really well. The two biggest drawbacks I found were: no belt clip to retain the holster during a struggle on the ground, and the top collapses when the gun is removed, which requires the carrier to remove the holster from their person in order to reinsert the gun. With that in mind they have a place. With a lightweight gun (J-Frame 642) they carry well with pants you wouldn't normally carry IWB. If I am leaving the house to run to the ATM or a fast food drive-thru window I will use this when going to and from my car, placing the weapon in my console while driving. When I mow in the summer I normally wear gym shorts atop my tractor and find this holster works well in that role.
Lesson: Test your holster and determine its limitations. Don't try to make it something it is not and don't compromise; if it doesn't work move on.
Kydex Belt Clips:
This should be no surprise to anyone. Kydex belt clips will break. This is not a case of if but a case of when. Murphy was alive and well the day I broke the belt clip in the photo; as I was in the Men's room of a while out shopping. I was lucky in that the clip didn't fail completely so I made it work until I returned home.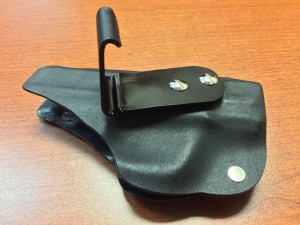 Lesson: Kydex clips fail, period. A great many defensive trainers will preach this and I knew it would fail eventually. It took about 6 months of everyday carry but fail it did.
ABS or leather belt loops are always preferable.
What if it had broken on the draw while defending myself?
Belts:
Surprisingly I only recently purchased a "real" carry belt. For years I have used thicker leather belts manufactured for blue-collar types and had great success. Truth be told, the only reason I recently bought a real carry belt was a 50% off clearance price. I can say that cheap or thin belts don't work. But a real quality belt, even if not labeled for holster use, is what you need.
Lesson: Don't buy a thin, wimpy belt for CCW, but don't think you have to buy a "gun" belt either. The leather doesn't care what it is labeled.  Just buy a thick holster made of quality leather.
So there you have it, solid lessons for those with newly minted concealed carry permits. Even if you don't agree I hope you find this thought-provoking and learn something from my mistakes.
If I failed to mention a holster type, i.e.: leather or combination leather and Kydex it is because I have limited experience with them.
The ultimate lesson in this entire series is plain and simple – do your homework when choosing guns and gear as it will help you avoid gimmicks and cheaply made products.  The money you save can be used for ammo and training, which is always preferable to the "gun of the week".
If you leave it up to choice or chance, there's a chance you'll choose the wrong choice. – Steve Anderson, Dry fire guru and USPSA Grand Master