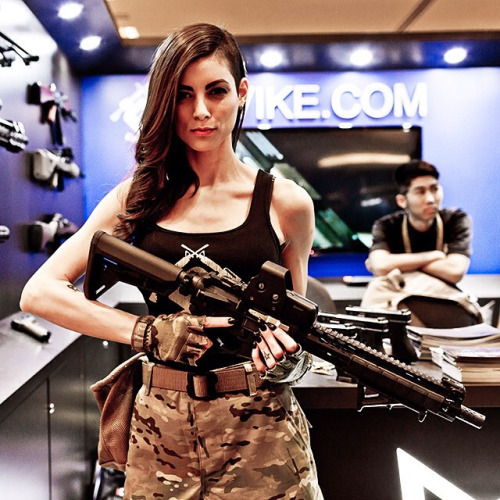 Hey, it's SHOT Show again which means it's time for the annual shouting match about booth babes. As you might be able to tell by the image above, I have done a bit of a 180 on the topic of booth babes over the years. There was a time where I was adamantly opposed to them, but any more I just don't care. I am still opposed to the subset of girls with guns that's all weird and porny, but having been to a lot of SHOT Shows I've never seen booth babes cross that line.
But now that SHOT Show is here, it's time for people to complain about booth babes. The first sort of people who complain are women who feel like booth babes devalue actual professional women in the firearms industry, which I can sort of see a point to. But then when I start to dig in on that idea, I don't think it really matters, because no one is going to confuse a booth babe with an actual product expert. At this point, we all know what booth babes are here to do: look pretty and attract people into the booth. They're models and their job is to look hot. No one is going up to a booth babe and asking them how Colt determined that 17 pounds was the ideal spring weight for a 1911.
However, I don't really have a problem with women objecting to the use of booth babes. I may disagree, but hey at least professional women in the industry are in a position of some authority on the subject. There's one group of people that I can't stand though, and it's the White Knights who decide to rail against booth babes in hopes of receiving a head-pat from Estrogen Voltron for showing how progressive and forward thinking they are. If someone ever writes a post that says "I'll never buy a gun from Brand X because they use booth babes" all they're doing is virtue signaling for other people to show off how un-sexist they are.
At this point, my feelings on booth babes are pretty straightforward:
So yeah. It's time to calm down about booth babes, everyone. To the white knights out there, no one is going to sleep with you because you're just so offended by booth babes, so calm down. No one is putting a gun to the head of those women and forcing them to go work our trade show, they're professionals. They're getting paid. That image up at the top? That's of Leeanna Vamp, who is a well known cosplayer and professional model. You think she just showed up in the Evike booth one year for giggles?