By now everyone has heard of the newest polymer framed striker fired pistol, launched this week by Ruger. The Ruger American pistol is available in 9mm and .45 ACP, and if you want one they're in gun shops today.

The new offering from Ruger has a number of features to make it attractive to shooters.
Modular grip inserts to fit a range of hand sizes
Novak sights
short trigger take up
low bore axis
Additionally, what I like most about the way Ruger launched the pistol is that they also have holsters and different sight options available right now. Want to carry you new American pistol? You can buy a holster for it today. Don't like the factory three dot sights? No problem, Ruger has options for that available as well. If I were getting one of these guns, I'd get it with a tritium front sight and the white line rear sight option. But if you want three tritium dots you can get that, or if you like plain black sights for competition/target shooting you can get that.
I've not fired one of the new American Pistols yet, but I already like some of the features. It seems like Ruger took a lot of the issues that some people had with the SR series and addressed them with this gun. No magazine disconnect, no thumb safety, no enormous LCI – just a simple meat and potatoes polymer pistol priced to sell. Make no mistake, with an MSRP of $579, you're going to see these pistols in dealers hands for under $500, and at that price point they're going to move.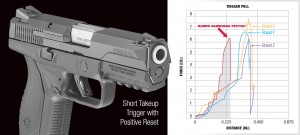 Do I think that we're going to see the new American pistol in police holsters any time soon? Nope. I also don't think that we're going to see it at many USPSA matches either. When I ran an SR9c in USPSA for a project, I was pretty much the only person shooting the polymer Rugers, and I don't think that will really change. Mostly because Ruger has never really viewed competition shooting as a venue for marketing guns, with the exception of the excellent GP100 Match Champion. Truth be told, if the new Ruger American Pistol performs as I expect it to, they won't need to.
My experience with the SR-platform was overwhelmingly positive. Both the SR40s and the SR9c pistols I had worked extremely reliably over several thousand rounds of logged ammo. I suspect that the new Ruger American pistol will be much the same, but with the new added enhancements in terms of trigger and modularity making it more appealing.
I have no doubt that Ruger will sell a ton of these pistols, and that, to me at least, is a good thing.