Yesterday afternoon, the internet exploded when a custom gunsmith posted a cease and desist letter he received from Smith & Wesson's outside counsel to instagram. Here are screencaps of the entire letter (more below the jump):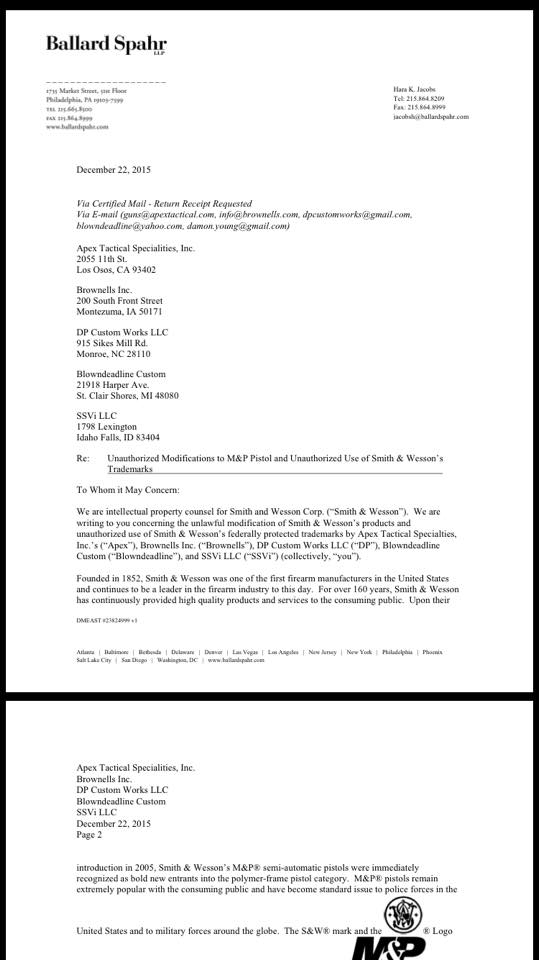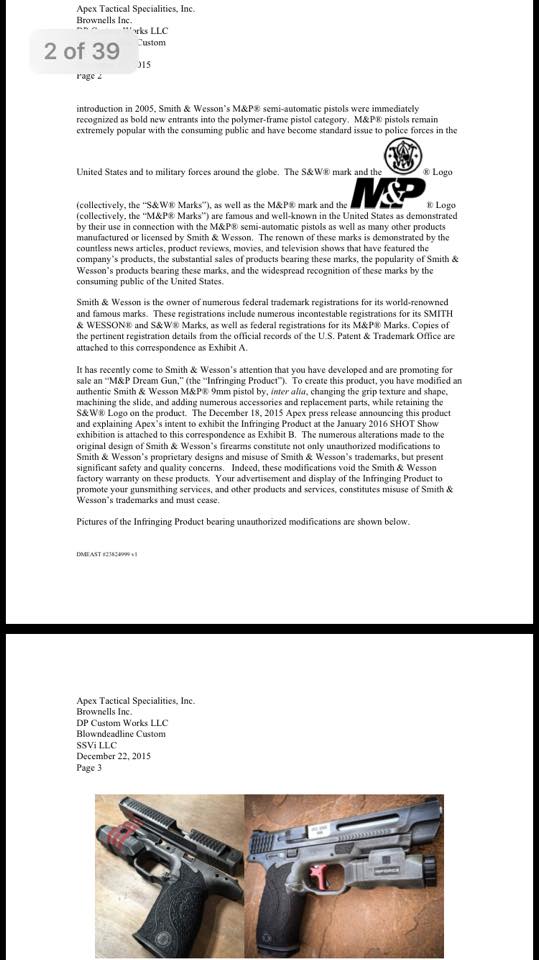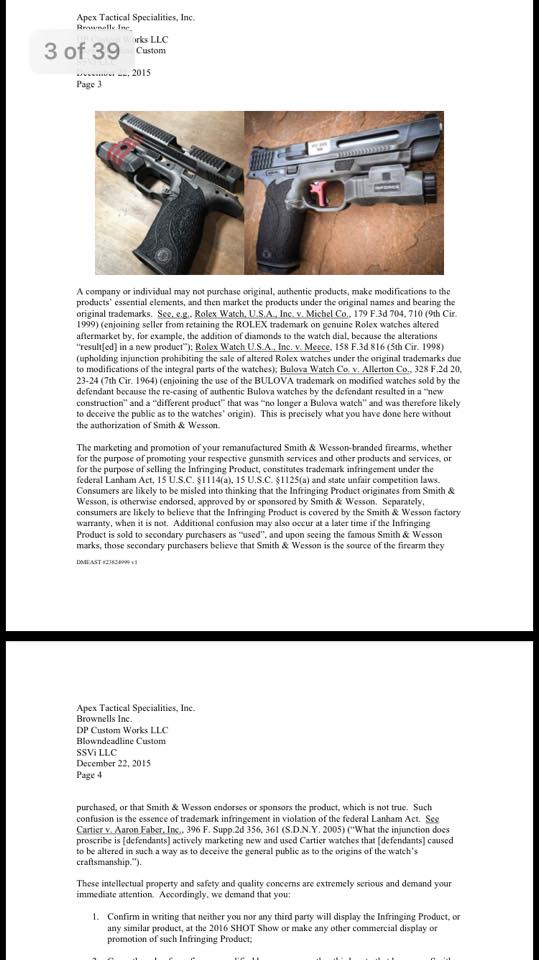 Needless to say, the response from the internet was fast and savage. S&W's social media feeds were bombarded with comments from end-users; and there was also a considerable amount of confusion regarding the issue. To help clear that up, here's a bit of legal analysis from an actual lawyer, Annette Evans:
So we have here Apex, who at their own cost (from what I understand) offered gunsmithing services to keep competitors' S&W M&P guns running at the S&W title match – IDPA Indoor Nationals – when S&W wouldn't or couldn't. Brownells, who really needs no introduction. Some other fine companies making modifications that make people want to buy more M&Ps, and they hire someone from an expensive outside law firm, whose representative list of client industries doesn't include firearms or manufacturing, to write this flaming pile of [censored], sent out three days before Christmas and imposing a deadline that will be close to impossible to meet (not to mention ruinously expensive) given the holidays? And that's giving them the benefit of the doubt on the typo for the response deadline.

I take the point that the "Dream M&P" was announced just on Friday (and I'm willing to bet at least a few associates' weekends were ruined over this), but it's not like most of these companies don't have a history of providing a large and popular line of aftermarket accessories and modifications….and in fact, the overreaching demands go far beyond the "Dream M&P" that apparently brought S&W's hammer down, to products that S&W can't possibly argue that they weren't aware of in the past and indeed, they have acknowledged Apex's work in particular in their own marketing materials (see http://www.smith-wesson.com/…/BallisticIssue001_SW_58…)

AND this C&D is essentially to argue trademark confusion? Against companies that have arguably raised the perception of the brand (unless you want to count the fact that Apex has made any factory trigger S&W put on the M&P a joke) and who S&W has had ample opportunity to partner with? From companies whose general audiences are tinkerers, i.e., people who buy something and put flair on it?

AND if S&W wants to be consistent about this, where are their C&Ds against ATEI? SAI? Saying you have to act to preserve your rights in your marks (a la Kleenex or Thermos's failure to do so and subsequent genericization) is weak.

First salvo out from outside counsel is ridiculous. This should have been handled by a phone call by senior executives requesting that it be made clear S&W was not a sponsor/supporter and/or a letter from in-house counsel. And long before this, S&W should have been working on partnering with Apex in any case.

See also: Streisand effect.
Annette Evans is an attorney in the Philadelphia area who has been practicing as in-house commercial counsel for over six years, and was previously in private practice doing transactional work. She is currently the lead attorney for a global specialty research services company.
This morning, S&W and Brownells have released a statement on the issue:
James Debney, President and CEO of Smith & Wesson, said, "I would like to clarify that we fully support the Brownells Dream Guns® Project and we appreciate that it showcases the many ways in which our customers – loyal fans of our M&P brand – can choose to customize their M&P firearms. Our decision to contact the companies that worked on the project was intended to protect the trademarks that support the M&P brand. When a product bears the Smith & Wesson and M&P trademarks and is purchased new with our lifetime service policy, we want to be sure that the consumer knows it has passed our demanding quality standards. In our efforts to protect that promise and to preserve the brand that we and our customers cherish, we did not fully understand the intent of the Dream Guns® Project and we overlooked the opportunity to convey our enthusiasm for the creativity and innovation that Brownells and all of the companies involved have demonstrated. We look forward to seeing the firearm on display at the upcoming SHOT Show in January and at the NRA in May."

"I have spoken with James Debney, President of Smith & Wesson, who called me regarding the M&P® Brownells/Apex Dream Gun™," said Matt Buckingham, Brownells President. "It was a simple misunderstanding about the intention of the project. He made it clear that Smith & Wesson is excited to have their product featured in this fun and unique way. For our part, we are honored to include it in our Dream Gun lineup. Smith & Wesson is a legendary brand in this industry and we continue to be proud partners with them."
Before S&W released this statement, rumors had begun to circulate that the C&D letter was sent due to a misunderstanding of the nature of the Dream Gun project, and it appears that was actually the case.
I am glad to see S&W releasing a statement clearing this mess up, as the potential fallout from this would have been considerable. Can you imagine the can of worms it would have opened up if suddenly major manufacturers were threatening every custom gunsmith that worked on their pistols with legal action? Glock vs. Lone Wolf, Colt vs. 1911 smiths, it would be utter chaos.
Again, I'm pleased to see Smith & Wesson stepping out and clearing this mess up.