Carrying a gun every day is no laughing matter. It is a tremendous responsibility, and one that far too many fail to take seriously. However, there is another segment of people who maybe are going a little bit overboard on the "CCW lifestyle." In fact, that's probably a sign right there: if you've ever used "CCW lifestyle" without a hint of irony, you need to calm down. But anyway here's Wonderwall the list.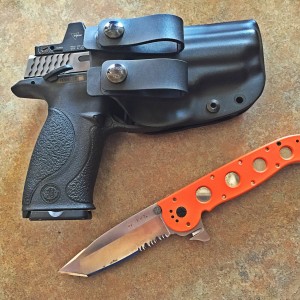 1. You buy your clothes based on how easy it is to conceal all your EDC crap.
Look, I get it. We all should carry full size service pistols, a reload, two knives, a flashlight, 2 liters of water and a portable super-computer at all times. There's also nothing crazy about buying your jeans a couple of inches bigger to accommodate an IWB holster. That's just good sense. It's when you start doing all kind of craziness such as only buying medium polos that hang a certain way, or never buying any clothes that actually fit nicely simply because "I can't conceal in them." That's crazy because 1) yes you can, and 2) carrying a gun shouldn't be such a thing that you have to let it run your clothing choices.
2. You won't go out with your friends to certain bars/restaurants because they don't allow concealed carry there
I'm…I'm actually guilty of this one in years past; I wouldn't go to a bar with my friends if that bar did pat-down's at the door. There's some logic to that, but really it was just me being stubborn and prioritizing "being a sheepdog hur-dur" over "having a good time with people I like." Hey, we should all carry our guns and be mindful of where we go, but there's also a point where we should maybe chill out. For example, if you tell you friends you won't go out with them because where they're going doesn't allow carry. Of course, if you have that kind of mindset, this probably isn't a problem for you.
Because you don't have any friends.
3. You actually care which business are pro or anti-gun.
I don't care that Buffalo Wild Wings hates my guns. I don't care that uh…Chick Fil A is completely ambivalent to them. I just go the places I like to go, and try to not worry too much about the political leanings of major corporations. Now, if you're talking mom and pop shops, that's a different story, because to them, losing one or two customers or gaining a new customer can have a real significant financial impact. But Starbucks isn't going to give two shits if they lose me forever because of blah blah blah open carry whatever.
4. You've ever participated in a lengthy forum discussion about "mandatory EDC items."
You're probably just a terrible person. But I actually get this one. We carry all this gear, so it's natural to want to talk about it, and it's natural to want to see who has better gear, or whatever. But it's also really easy to get wrapped around an axle about all the shit we carry and forget that what you're really carrying is a 2 pound insurance policy in case your day takes a really statistically unlikely turn for the awful. There really isn't anything wrong with talking about our gear, it's just that on forums, those sorts of conversations usually end up running down these crazy rabbit trails of "what if you're attacked by 25 axe wielding ninjas at night in an alley? I bet you'd want more than 100 lumens then!" Which is true, I would. I'd want an M240b, an assistant gunner, and a sandbagged fighting position. Wait, crap, what was I talking about again? Oh yeah, EDC conversations.
5. You've ever written a smug blog post about how other people need to get over themselves about CCW
…waitaminnit…