Apparently, when I went to Lackland for training, I entered a dimension portal, because six months later now that I've popped out, I'm in some alternate universe where Donald Trump is a Republican presidential front runner and Bloom County is politically relevant again. It's pretty weird. What's even weirder is the headlong rush some of my fellow conservative travelers have undergone to embrace Donald Trump and proclaim him as the savior of Republicans and of course, the 2nd Amendment. A lot of that 2A-fervor is based on his official position paper, which if you ask me is worth exactly the same as the paper it's printed on. Or the electrons or whatever since you're reading this online and no one has hard copies of anything anymore.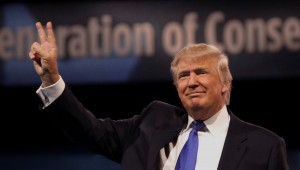 Right now, Trump is saying all the right words, touching all the right talking points, and generally doing an excellent job of looking like a pro-gun Republican candidate. And if you think he wouldn't throw gun rights under the bus faster than one of his casino bouncers will kick you out for counting cards, you're stupid. Actually, you might be terminally stupid. Let's play out a hypothetical scenario for a bit, just to illustrate my point.
First, you have to operate from the assumption that Trump's professed love for the 2nd Amendment is insincere and exists only to pander to the conservative base. So he somehow gets elected, and then bam, there's a mass shooting. With a Republican majority in both houses of Congress and a Republican president, Trump feels compelled to act. He feels this way because he is in love with his own image, the Donald Trump of the People, and after someone shoots up another school, the People are upset. Something Must Be Done. So he sells us out, and next thing you know there's a universal background check bill in Congress that he's promised to sign. The NRA is playing defense because they have to convince members of the President's own party to go against him, which is never easy nor a guaranteed thing.
Now take that same scenario and have it run under President Hillary Clinton instead. NRA is ALREADY primed for a fight, because there's a Clinton in office, and they come out swinging the second she says "gun control" on TV. The bill dies in committee, and Hillary goes back to looking for a war to fight so she can prove she's as tough as one of the boys or something.
Most of this goes back to an old phrase: better the devil you know than the devil you don't. Hillary Clinton, for all her faults, is absolutely the devil we know. President Hillary Clinton could do a lot of damage this country for sure, but gun rights? Probably not. Anything she says or does that even smells a little bit like gun control is going to result in NRA and the entire gun owning internet losing their collective shit and blowing up every red-state Congressman's phone for days. Which is exactly how it should be. But is the reverse of that true? If you get a squishy Republican who doesn't really care about gun rights in office, and especially one like Trump, the odds of them selling us out for the sake of their image and getting away with it are a lot higher.
That's the thing with Trump. Everyone seems so sure that he's not full of shit, when every single thing about his record in business says that yeah, he's totally full of shit. Ultimately, Trump would sell gun owners out in a heartbeat. Here's why: like I mentioned above, Trump is in love with his own image. He's a narcissist, or egoist or whatever you want to call him. People like that are dangerous, because they'll act to preserve their own self-image at the cost of everything else.
The best case scenario for Trump as President is the same as the best case for Hillary: we keep the wolf away from the door for another four years. But the worse case for Trump is a lot worse than Hillary. Don't fool yourself into thinking that Trump is any real kind of ally.