This week the journal of the Aurora, Colorado killer was released to the press and excerpts of the testimony at his trial have hit the news. Last week there was a debate about certain aspects of open carry legislation in Texas that also made national news. These two seemingly unrelated stories had a common element, though, that the media isn't going to talk about…death sentences. I'll explain.
The Aurora shooter (I refuse to use his name) turns out to have methodically planned his attack over an extended period of time with careful attention to detail. Over at the Active Response Training blog, Greg Ellifritz does a splendid job of covering some of the detailed planning the killer went through including figuring in the timing of police response to the act of violence. Let's also not forget that this person wired his apartment with explosives in the hopes of drawing police and emergency services away from the scene of the massacre. He even left a remote controlled vehicle in a play area near his apartment rigged up as a trigger in the hopes that if nobody walked through his open door to blow up his apartment building, that a child might try to play with the toy and set off the bombs.
I've often referred to active shooters as malevolent narcissists. This…person…fits that description to a T. Listen to the explanation of why he wanted a body count. Seriously, go to the link and watch the video:
http://www.denverpost.com/theater-shooting-trial/ci_28227922/aurora-theater-shooting-trial-latest-from-day-22
He actually says that upon hearing that he had killed twelve people he said "I was worth twelve more people than I was before." Later he goes on to say that "Anything they would have pursued gets canceled out and given to me."
The murderer claims to add value to his life by taking the lives of others…pronouncing on them a death sentence in pursuit of his own sense of self worth. To serve his own delusions and fantasies, he's willing to see innocent people dead. Ponder for a moment the level of depravity indicated by that mindset.
Unfortunately, he is not alone.
On the surface of things, you wouldn't think that the murdering scum in Aurora has anything in common with, say, a college president in Texas. As a part of the legislative wrangling to pass open carry in Texas (made more difficult by that jackass Kory Watkins) consideration of allowing concealed carry on some college campus facilities in Texas became part of the deal. This led University of Dallas president Tom Keefe to say:
"The only people I want having guns are police and the bad guy," he said. "I don't want police to have to sort out who is John Wayne coming to the rescue."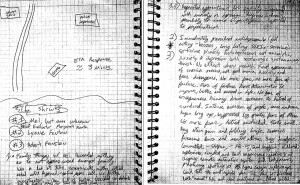 Let us consider exactly what that statement means. This university president is saying that he wants to see people locked under the control of a malevolent narcissist bent on a body count (remember that at Virginia Tech Cho chained the doors of Norris Hall shut to keep his victims contained in the building and delay police response) until the police eventually get there rather than allowing the possibility of one of the intended victims shooting back…because that might be messy and confusing! A massacre, you see, is nice and simple.
We know for a fact that active shooters factor in police response time in their plans. You can see it right there in the Aurora murderer's journal. We know they, in fact, need that lag in response time to generate the body count they are looking for. They try to extend the time it takes armed response to materialize so they can execute as many people as possible.
…and yet here is an educated, credentialed university official stating outright that he wants the murderer to have that level of control because in his sick mind that is somehow preferable to people shooting the murderer before he can execute his way to a higher level of self worth.
The president of Dallas University pronounced a death sentence. To serve his own delusions and fantasies about these sorts of events, he's willing to see innocent people dead. Ponder for a moment the level of depravity indicated by that mindset.
I don't think one has to be a university president to understand that coming down on the same side of the issue as the murderers is a bad thing.
The Aurora murderer is standing trial for his crime. He has claimed he's not guilty by reason of insanity.
What, do you suppose, is Tom Keefe's excuse?