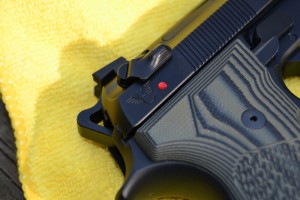 If you remember back to March of this year, we brought you the announcement that purveyors of 1911 excellence, Wilson Combat, had teamed up with Ernie Langdon to begin offering gunsmithing services on the Beretta 92 family of auto pistols. Bill Wilson, the founder of Wilson Combat, has apparently been a fan of the Beretta 92 pistol for quite some time and wasn't content to offer gunsmithing services on the 92 family…he wanted a Beretta built to his specifications. So he called up Beretta and ordered 1,000 pistols built his way, including using parts Wilson manufactures for the 92 series pistols.
It's a fairly unusual thing for a relatively small custom gun maker like Wilson Combat to team up with one of the heavy hitters in the industry to produce a gun. I can't really think of any other examples of this kind of venture off the top of my head. The fact that Beretta was willing to build this gun to Wilson's spec says quite a bit about the company and the people involved in the effort.
The announcement in early November generated a lot of buzz on forums and social media…and a lot of sales, too. The first 250 guns sold in less than 48 hours. Why, you may well ask, would people be in such a hurry to buy this pistol?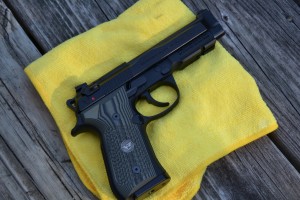 The simplest way to put it is this: This pistol is like a greatest hits edition of the Beretta 92, built to the highest standard possible. The feature list includes:
M9A1 frame with 92A1 round trigger guard profile and improved checkering
Dehorned 92G Brigadier slide
Enhanced slide to frame fit
Trijicon tritium dovetail front sight
Stainless barrel with recessed crown, 4.7" Elite II length, black finish
Oversize steel magazine release
Steel de-cocking levers
Skeletonized Elite II hammer
D hammer spring
Lanyard loop pin
Lanyard loop, aluminum
Steel trigger
Wilson Combat rear u-notch battlesight
Wilson Combat fluted steel guide rod
G10 Dirty Olive grips with Wilson Combat logo medallion
Wilson Combat logo on slide
3 15rd M9A1 Beretta sand resistant magazines
Of particular interest to those who know the Beretta 92 are the spec for a tighter lockup, the use of a "Brigadier" slide, the inclusion of an Elite II style barrel, and the "G" de-cocker only configuration. That combination of features is impossible to find even among Beretta's discontinued models. As an example, it's only in the last few weeks that Beretta has brought "G" model 92 pistols back to the market after a very long absence.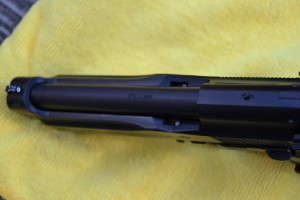 Seeing the buzz and the speed with which these guns were selling and reading the specs convinced me to place an order. Pretty soon WC0279 arrived at my local FFL and I was able to go hands-on with the what is claimed to be the best Beretta 92 ever built. It's difficult to say this without sounding like a cliche, but the gun just "felt" right in my hand the second I picked it up. The fit of the slide and frame is as tight as advertised, and ditto with the lockup. The store happened to have a couple of other Berettas in the case so I took the occasion to compare, and the fit and finish on the Wilson Beretta was indeed superior to those specimens and to the two Beretta pistols I already owned.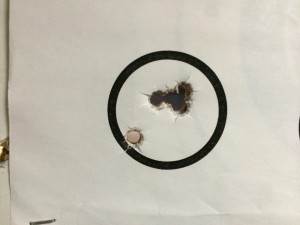 Of course, gunstore "feel" doesn't really tell the tale of how the gun will perform for you. To figure that out you need to go to the range. On her first range trip the pistol did not disappoint. Conditions at the range were, frankly, terrible and not conducive to getting the best accuracy out of the gun…and I was shooting horribly thanks to a monster headache not being helped by the dude next to me blasting with an SBR AR15 with some ridiculous brake on it. It took a bit of doing but I finally figured out that I needed to use a 6:00 hold on the sights and got a system down good enough to hit the nearly invisible 2″ circles at 25 yards. In more than 200 rounds of shooting I managed to put together a couple of good groups using Federal's 124 grain +P HST and the Speer 124 grain +P Gold Dot loads.
The spec is designed to produce an exceptionally accurate pistol and every report I've seen so far seems to indicate that shooters are finding their own eyeballs and trigger fingers to be the limiting factor in accuracy rather than the pistols themselves. Mr. Wilson himself reports getting excellent accuracy at 50 yards with the guns he's acquired for himself.
So is this the perfect Beretta 92? The combination of the accessory rail and the "Brigadier" slide will make finding holsters for it somewhat challenging and the double action trigger pull on my specimen could benefit from a trigger job (a service Wilson Combat will happily perform on the guns, though it adds cost and an estimated 5 weeks to the delivery time) but other than that it's difficult to find anything to complain about on the gun. The grips don't have enough purchase on the left panel for where my hand makes contact, but that's true for me with just about every handgun I pick up.
Is this the best Beretta 92 pistol ever made? I can safely say it's the best Beretta 92 I've ever handled. It's more expensive than a Beretta 92 sitting on the gunstore shelf, but it's built better and it's a configuration you simply cannot get from Beretta today or by buying one of the excellent discontinued models like the Elite II or 92G-SD. (Which usually sell for more money than is currently being charged for this pistol, for what it's worth…)
I'll put it to you the way I heard someone describe the Hellcat editions of the Charger and Challenger: If it sounds cool to you, you'll like it. If you like the Beretta 92, this gun is a no brainer. If you don't like the Beretta this gun may be the one to change your mind. If you are interested, I believe Wilson Combat still has some guns available for order here.
Even more importantly, it may be the opening shot from a reinvigorated Beretta looking to take back some lost ground in the handgun market.
Time will tell.