It occurred to me the other day, while walking around downtown Memphis that I've lived the majority of my adult life either in cities or large suburbs of cities. I am about as far from "country" as you can get. Since moving to South Dakota, I've been exposed to proper hunting for the first time, first with pheasant hunting, then coyotes, then prairie dogs. As it turned out, I actually like hunting.
Well, let's be a little more clear. I enjoy the marksmanship challenges presented by hunting, and in the case of prairie dogs, I do enjoy blowing their little furry asses straight to whatever plague rat hell they're spawned from. But as it turns out, despite being by and large a city guy, I really do enjoy the activity around hunting. I'm not a big fan of "sitting still" and "being cold" so coyote hunting wasn't my favorite of the three, but I figured I should round it out this year and go for the quintessential American hunting experience.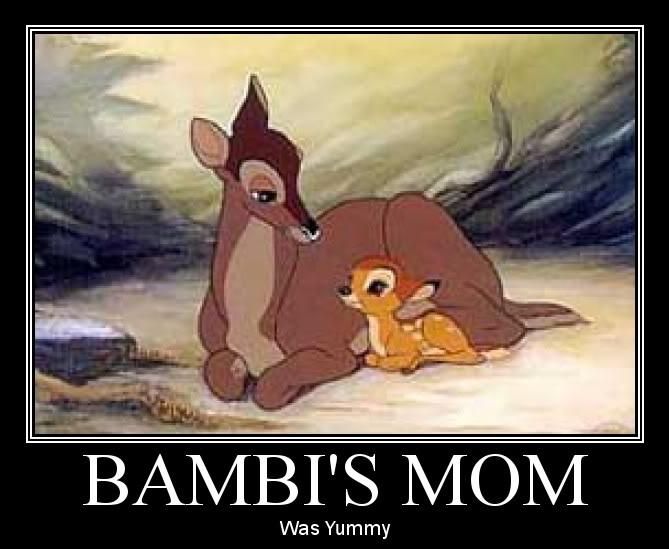 I'm going to shoot Bambi's mom. Or Bambi, but a full grown version. I bought a South Dakota muzzleloader any deer tag this year, because I've never really hunted deer, and yet hunting, and especially deer hunting, is a foundational part of the American gun culture. I figured since I live in South Dakota, I should probably take part in this experience.
Right now I'm in the process of preparing for the hunt, South Dakota muzzleloader season opens December 1st. I have about a month to get all my gear correctly squared away, and I have some great friends here in SoDak who are going to help me find a good spot for the hunt itself. South Dakota's rules for muzzleloaders are pretty simple, they allow modern, in-line guns such as the T/C guns, but no telescopic sights. That leaves me with the choice of either fixed irons or adding a red-dot sight. It also means my effective range is really capped at about 100 yards, 150 if I have a good rest and feel like pushing the shot.
Speaking of guns, I am going to use a T/C Pro Hunter FX or the more budget conscious T/C Impact. I had my first real introduction to how awesome T/C guns could be for hunting on a prairie dog hunt, where my best shots and greatest success were with a T/C Encore in .223. For bullets, I want to go with the Federal Premium Trophy Copper, a neat expanding bullet designed specifically to work with muzzleloaders without the use of a sabot. According to Federal this makes it more accurate, and since you get the full diameter of the .50 cal bullet, more effective than a .45. All I know is that pushing a 270 grain .50 cal bullet at 1800 FPS is a lot of hurt to put downrange. For my competition shooting friends, that's a power factor of 486.
There's a ton of other gear and sundries to get before the hunt, and I'm going to be writing continued pieces, both here and for GunUp the Magazine about my experience. It should be fun. Despite the whole "being cold and sitting still" part, of course.