Everyone who's ever been on the gun section of the internet knows two things. The first is that you carry a .45 because they don't make a .46, and the second is that you carry a .357 Magnum because shooting twice is silly.
Sorry, I know you probably caught the derp from that opening statement, but bear with me here. A forum thread got me thinking about something, specifically the "legendary stopping power" associated with the classic 125 grain .357 Magnum loads. If you've read the internet, these are very well regarded for producing rapid incapacitation in badguys, and truth be told do produce some pretty impressive wound trauma in obstructed shots. But the question that ran though my mind this morning was whether or not the .357 Magnum did anything in those situations that a modern JHP wouldn't have done?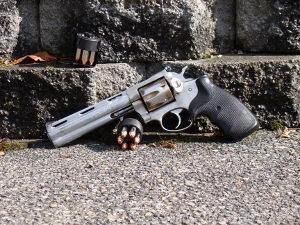 This is the problem when we talk about "stopping power" because what causes a human being to stop can be complicated. Physically, there are only two ways to actually stop the human body: make it stop pumping blood, or disrupt the central nervous system. However, there are lots of document cases of people being "stopped" whose wounds were not incapacitating in any way. Similarly, there are lots of documented cases of people with serious wounds fighting well past when conventional logic says they should have stopped.
One of the more interesting areas of self-defense shootings is the concept of the "psychological stop" – where the person who has been shot realizes they've been shot, and decides that regardless of the severity of the wound, it's time to rethink their life choices up to that point. I've seen gun articles that suggest that this could be part of the reputation of the .357 Magnum for putting dudes down – the tremendous muzzle blast and concussion associated with cooking off a 125 grain magnum out of a 4 inch gun makes it somewhat difficult to ignore the fact that you're being shot at.
Ultimately, I think a lot of the legend of the .357 Magnum's "stopping power" is just that: a legend. Yes, there are tales of it producing incredible one-shot stops, but you can find those with any round. There are also plenty of stories about it failing to stop badguys, which are also common with plenty of other rounds. It seems that the common thread in all of these stories is simple: marksmanship matters.