Over on pistol-forum, there is a thread discussing the concept of the "command shot/break" with regard to pistol shooting. This is based around the idea that there are times when you want to make the gun go off RIGHT NOW as opposed to the more classic "surprise break." An example of this would be shooting a swinger in USPSA, there will be a point where the target has an optimal presentation, and you need to shoot it when it's there.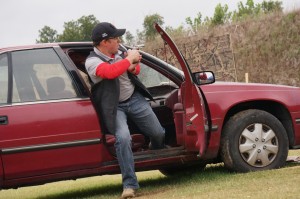 The surprise break is one of the fundamental concepts of marksmanship – it's how we teach new shooters to shoot without a flinch, for example. It works best with SFA or SAO pistols, but can be able to TDA and DAO guns as well. The idea is that you pull the trigger with constant, steady pressure until the gun goes off. There shouldn't be a conscious decision to shoot RIGHT NOW with a surprise break, as with most new shooters this is the sort of the thing that will induce flinch and trigger jerk.
But what about more advanced shooters? The idea of a command break, where you do want to shoot the gun right freakin' now is actually valuable, and it's an important skill to develop. It builds on the fundamentals of the surprise break, in that you've ideally gotten to the point where you can pull a trigger smoothly without disturbing the sights. The big difference between a surprise break and a command break is that you're making a choice to fire the pistol immediately at an available target, and must pull the trigger as quickly as possible to the rear, without disturbing the sights.
This is a skill that can be practiced extensively in dry fire, and is especially important if you're shooting a DA revolver, for example. The drill to practice this is simple: aim the unloaded gun at a target of fixed size. Pull the trigger as fast as you can without disturbing the sights off the target zone. Do that same speed for five reps. Now do it faster for five more reps. Repeat until awesomeness achieved. It's also fairly easy to work on at the range. I don't normally advocate shooting on a cadence, but for this drill it helps to count in your head: "1…2…3…shoot…1…2…3…shoot" based on whatever pace you're looking for.
Mastering command fire is an important skill for competition shooters and self-defense shooters alike. I've had many situations in matches where I've needed to hit a target before it went away; as I've gotten better at this drill my ability to make those shots has increased. Give a try at the range and in dry fire when you can.