Thought exercise: Should toy guns be subject to the four rules?
Obviously, this is a question that every gun owning parent will likely have to answer. The reason we're asking it because there seems to be a hardline group of people who insist that toy guns in the hands of children should be treated exactly like real guns, no pointing them at anyone, etc. To me that seems stupid. I may not be a parent, I can actually remember when I was 8. I knew the difference between a toy gun and a real gun. Even at the tender age of 8 I knew that toy guns were TOYS and couldn't kill anyone, but I knew that a real gun was 100% not to be screwed around with.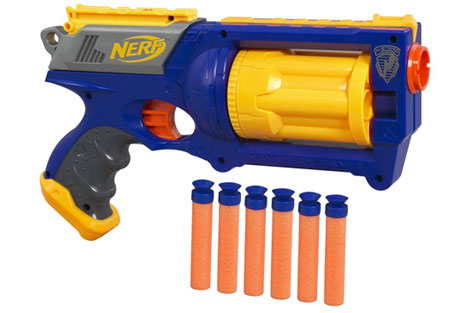 Now, obviously I can understand not wanting your kid to play with realistic toys like airsoft until they're older, but most kids will eventually reach an age where they can tell the difference between a toy gun and a real gun. At that juncture, let them play with toy guns and have fun. It's kind of hard to have a proper nerf gun war if you're not allowed to point guns at people.
Can you imagine that household? "Here little Timmy, I got you the new NerfBlaster 9000, but you're only allowed to use it for target practice against your sister's stuffed animals." That kid is 100% guaranteed to be a serial killer now, way to repress him.
This post really boils down to opinion, and I'm curious to know what you think. I grew up in the 80s and 90s, we didn't wear bike helmets everywhere and our parents didn't hover over our every activity, so maybe my childhood was different. But I have to say, if you insist that your child follow the four rules with toy guns, you're robbing them of one of the great joys of childhood, which is shooting other children with a toy. And I bet that if you don't allow them to have toy guns at all, you're boring. And likely a vegetarian.