Does your home defense gun have a light on it? If it doesn't, you're doing it wrong. It should also probably have a laser on it as well, because being able to hit what you're aiming at is kind of important.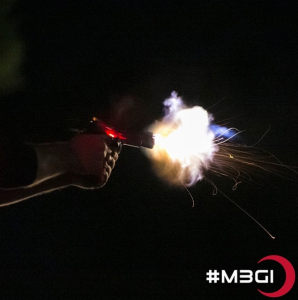 I believe we've touched on this topic before, but whether your home defense gun is a shotgun, a pistol, or a carbine, it really should have a light and a laser on it. I'll get into the reasons why in a moment, but first I want to talk about some of the common objections.
1. "You'll give away your position!"
Who is breaking into your house, Spetznaz? Are you laying at the top of the stairs in ambush? Seriously, unless you're creeping from room to room trying to do a solo clear of your house at 2am why do you care about giving away your position? I don't know about you, but my position is going to be pretty clearly given away by me shouting "I HAVE A GUN AND I'M CALLING THE COPS DON'T COME UP HERE I'M AFRAID FOR MY LIFE" on the line with the 911 operator.
2. "If it's so dark you can't see the target, you shouldn't be shooting."
You're an idiot if you believe this. THAT IS THE WHOLE POINT OF HAVING LIGHTS, to make it less dark. Also because 200 lumens in the eyes of Johnny Scumbag might actually make him reconsider some life choices, and maybe you won't have to drill him. Later we can have the discussion about weapon mounted lights for searching vs hand-held lights and the various advantages/disadvantages, but seriously, white lights make it a lot easier to hit the thing you're aiming at because you can see it.
3. "You can just turn a light on"
Okay. So you turn the light on in whatever room you're in, but Mr. Home Invader is a room with the lights off. Have you ever tried looking into a dark room from a well lit one? You can't see diddly. Point 200 lumens of justice into that room, and you can see plenty.
The truth is that most of the objections to lights and lasers on HD guns come from two kinds of people: 1) people with mall ninja fantasies about single person house clearing or ambushing a home invader at the top of the stairs and 2) people who've never fired a gun in low/no light situations. The first group are just idiots and can generally be ignored, but the second group, well, that can be fixed.
I usually two or three low/no light matches every year. Two are handgun only, and will involve stages in absolutely no light you have to use a hand-held light. Those are the S&W IDPA Nationals and the S&W BUG Championship. I would absolutely love to be able to mount a laser and a light on my gun for those stages, because it would make them much, much easier than using a handheld light. But without the handheld light, they'd be impossible. Those stages are usually no darker than my bedroom at night.
The other match I shoot is the full boat, the Crimson Trace Midnight 3-Gun that I just returned from. This match absolutely reinforces that you need lights and lasers on your gun. Hitting a big, white painted pepper popper is pretty easy during the day, but once the sun goes down? That target becomes a lot more challenging. There are also plenty of other issues associated with low light shooting that you understand when you actually spend time doing it; not the least of which is target ID.
In a match, if you're shooting a low light array and have a weapon mounted light, that no-shoot you forgot was there doesn't catch an extra bullet, because when you swing over to shoot at it thinking it's a legit target, thanks to your WML you realize it's not a threat, and move on. In real-life that no shoot is your teenage son sneaking back in through the window at 2am. I don't think that WML should be used for searching, but they can be quite useful in helping you realize that the person in your home at 2am may not be the threat you initially thought they were.
Then there are lasers. Why are lasers important? Well, quite simply lasers allow you to do 2 very cool things: keep your eyes on the threat and make hits from awkward firing positions. With a laser (or a red dot optic) your visual focus stays on the threat, not on your front sight. That's not a bad place for it to be, if we're being honest with ourselves. You're more likely to see furtive movements, be able to ID weapons, and of course the laser makes getting a clean hit a lot easier. The second advantage is that you can get those hits from compromised firing positions a lot easier. Need to pull the gun back near your chest? No problem, you've got the dot. Weak hand only while protecting a child? You've got the dot.
Bottom line: lights and lasers make the entire chore of shooting in low-light a lot easier. If you don't believe me, try it for yourself some time. There are quite a few low light matches around the country, or you could even try a dry fire run in your own home after dark. And if someone ever tells you that you shouldn't put a light and a laser on your HD gun? They're wrong, and they probably like Kel-Tecs or something.