At least according to wikipedia, they don't. I was doing some research, and in the article about Navy Recruit training, it mentioned that the marksmanship training that naval recruits receive consists of training on the M9 and a Mossberg 500, but not the M16. Initially, my reaction was surprise, but as I spent some time thinking it actually made a lot of sense. Of course, if there are any recent graduates of Navy boot camp that did train with the M16 in boot camp, please let me know in the comments.
But, to the point of the article, it does actually make sense to not bother training recruits in boot camp on the M16, because most sailors are never, ever going to need to be able to use an M16. And so, the small percentage of the Navy that does need to be able to use M16s can probably get training later in their career field. Boot camp probably isn't the best place for it, because in boot camp they're trying to jam as much information into your tiny little (likely) teenage head as possible, so why waste a sailor's time with something they're likely to never need. Hell, I'd probably need three weeks alone just trying to figure out how to tie that neckerchief correctly.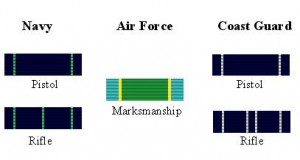 Obviously different branches of the service have different marksmanship standards, and of course the Marines as an institution genuinely care about rifle marksmanship. As recent conflicts have shown, it makes sense for people in non-combat MOS in the Army, Marines, and even the Air Force to be familiar with the M16 when they're deployed. But for dudes that are going to spend their entire career sitting on the inside of a tin can looking at a radar screen? Probably not. Do they still call destroyers tin cans? Or is that no longer the turn of phrase?
This really is just an observational post; when most people think of the military they tend to think of the sexy jobs; infantry, artillery, fighter pilots and boarding teams. They don't often think that the vast majority of people in the military are in non-combat positions – cooks and accountants, radar operations, machinists, just regular jobs that happen to have a bit more risk than you'd encounter in the civilian community.