My handgun choice for M3GI went around a few different tracks. I really wanted to run an all Beretta rig, with the same PX4 that I shot at Bianchi, coupled up with an ARX and a 1301. Unfortunately that wasn't able to come together, and then Troy graciously hooked me up with the sweet Lamb carbine I'll be using. So what to do for a handgun? Well well well, how about the HK VP9?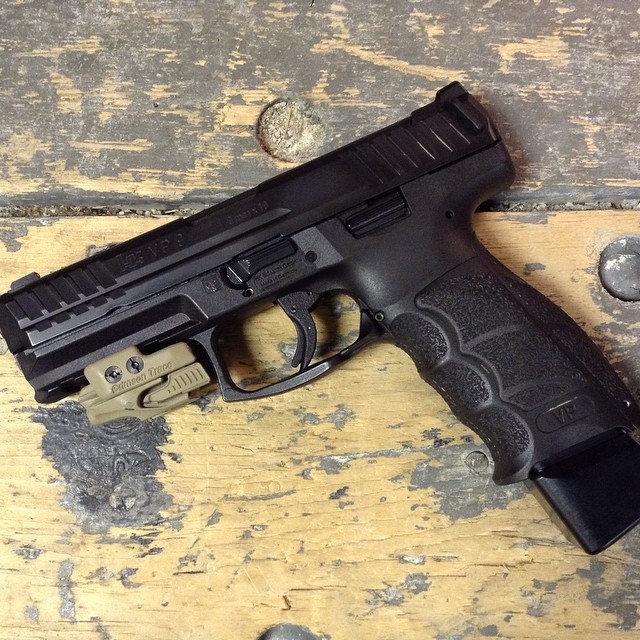 The only problem with the VP9 for three-gun is the capacity. It's a 15 round gun, and I ran a 15 round gun last year (Sig P229). I didn't like having to reload in the dark, so to fix that problem I added a sweet Taylor Freelance +5 basepad to the VP9. I also put a laser on it, which will solve the other problem I had last year: no really good night shooting device on the Sig. The sights are also different, instead of the night sights that come with the gun, they're now 10-8 Performance brass bead front sight with a black rear sight. While I'm losing the "night visibility" of the other sights, I'll have enough light on my body that I should be able to see them just fine. And also, that's what the laser is for. White light to see the target, red laser to hose it.
I do like the VP9, and I think for the price point it's a competitive choice with a Glock 19 or an M&P for a daily carry/duty gun. I do hope they'll make a long-slide version sooner than later, because having a 4.5 or even a 5 inch version of the gun would probably go a long way towards taming the kind of bouncy recoil characteristics. But back to the point at hand, I'm genuinely excited this year for M3GI, mostly because our gear is so much better set up for the match than it was last year.