If you've spent more than 2.5 seconds on internet gun forum, you've probably had someone tell you that M&P pistols aren't accurate. I feel like a lot of it is overblown, because how many people are really shooting their guns at ranges where a real lack of accuracy would be noticeable? But, in the interest of science, I decided to pull at random one of the 5 M&Ps we have in the house and see. The gun selected was an M&P full size, with a 4.25 inch barrel and Sevigny sights. It's an older gun, we've had it for at least three years.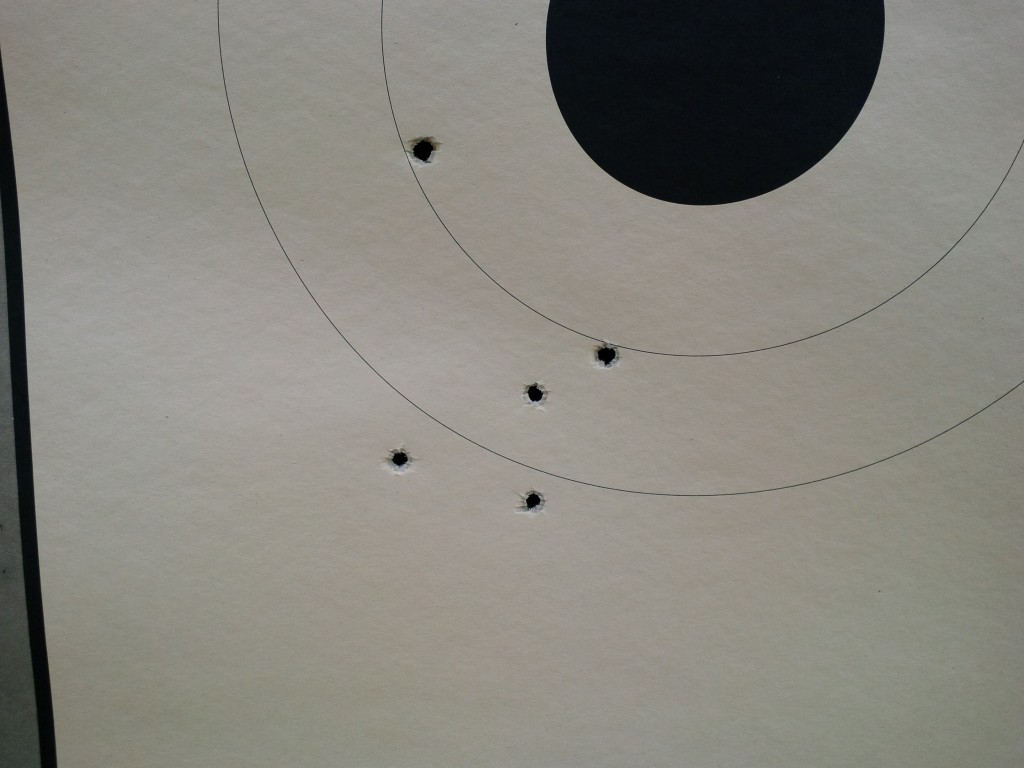 At 25 yards, using a six o'clock hold, the M&P put together this group. This was the best five shot group I could get out of the gun. I noted that point of impact for elevation was right at the tip of the front sight, and about 2 inches left. The group size is 5.1 inches, counting the flier at the top. Without that flier it's 3.2 inches. Under ideal circumstances, that would make this probably a 4 or so inch gun with perfect conditions and trigger pulls every time. This was all slow fire, no time pressure, no nothing.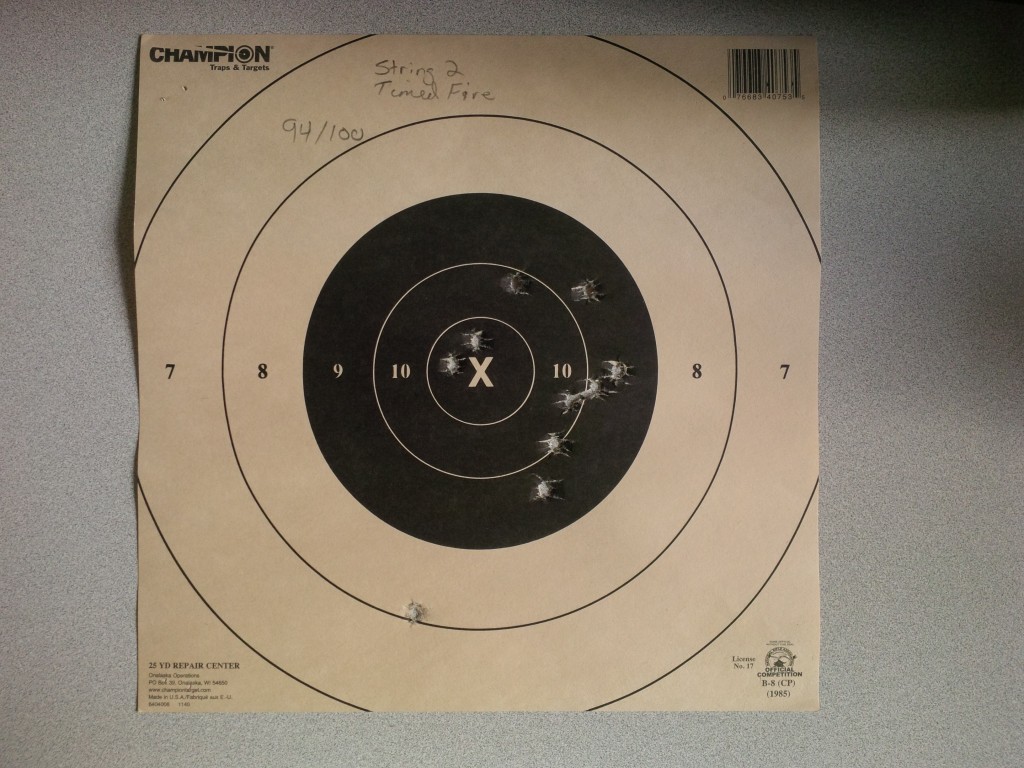 This target is from my first attempt shooting The Humbler. This is the Timed Fire target; shot freestyle at 25 yards. It's two strings of 5 shots with a 20 second time limit. Under the pressure of a (very long) time limit using a very accurate gun, I was able to shoot a group that is better than the "ideal conditions" group I shot with the M&P. If you remember from the HK VP9 Review, it is an extremely accurate handgun, shooting sub two inch groups all day long.
Because the VP9 is more mechanically accurate than the M&P, I know that under less than perfect circumstances I'll be able to get better hits with the VP9. But here's the real question: does it really matter? The answer, of course, depends. But it depends on two things, your mission and you skills. If your mission is to win Production division at Bianchi Cup, it absolutely matters. Or if you want to shoot a 699 on the Humbler, it definitely matters. But if you want to be able to defend yourself? The difference between a gun that shoots 4 inch groups and 2 inch groups becomes a lot less important.
The other area is skill. Let's be honest with ourselves for the moment. The average shooter/gun owner simply isn't good enough at shooting to appreciate the difference between a 2 inch gun and a 4 inch gun. I don't say that to be harsh, it's just the truth. The average shooter is frequently incapable of keeping 5 shots on the paper at 25 yards, much less shooting something that resembles a group. That's why you see people content to blaze away, shooting basketball sized groups at 7 yards. That guy is the average gun owner – he doesn't take classes, and he certainly doesn't compete, because he's "minute of badguy accurate" at 7 yards.
If you're serious about shooting, you obviously want the most accurate gun you can get for your purposes. If you have an M&P that runs great and shoots 4 or 5 inch groups at 25 yards, I wouldn't toss it in the garbage just because it's not accurate "enough." For self defense work or USPSA competitions, that's plenty accurate. Especially if you shoot your M&P well. If you want a more accurate gun, there are plenty of choices available.
I wrote this post primarily because I'm tired of seeing people on forums complain that "M&Ps aren't accurate" when those people have probably never shot a 25 yard group in their lives. There are some people I'd listen to when they say that. But "9mmLvr4eva" on some derpes infested clown-show forum isn't.