I don't know where it came from, but for some reason women new to handguns, and especially interested in concealed carry, are always told to buy revolvers. Sometimes, women should buy a revolver. For example, if they like it, are proficient shooting with it, and have found it easy to conceal. It shouldn't be everyone's automatic go-to though, and here are a few reasons why: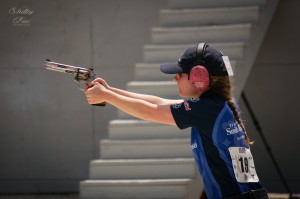 1. It's more difficult to shoot
Seriously, double action triggers are a beast, and if you're teaching her to cock it and shoot it single action, stop. Becoming proficient and getting a steady trigger pull with a double action trigger requires a certain amount of forearm strength, forearm strength that it takes most women (note: not all) time and practice to develop. Do you really want her first gun to be one she has to use grip strengtheners for four months before she can enjoy shooting it for more than 10 rounds?
2. She is strong enough to rack that slide
This drives me insane. I have met people who are actually physically incapable of racking most slides, usually because of an injury or disease in one of their hands. You know what most of them have ended up buying? SIG P238s or P938s.
When perfectly healthy people tell me they aren't strong enough to rack the slide, I automatically assume it's because they haven't been taught properly – because usually they haven't. It's possible to use your body weight to make racking a slide much easier, it's not about pulling BACK on the slide, it's about pushing FORWARD on the grip, and if necessary putting your body behind it.
3. When it breaks, it breaks
I have seen many revolvers break. I have never fixed any of these broken revolvers, because in order to fix a revolver you have to open up the inside and it's like 1892 in there. You know what's easy to teach people? How to clear a malfunction in a semi-auto and get back to shooting. You know what's hard to teach people? How to fix the timing on a revolver. Revolvers do malfunction, especially cheap ones, and when they do it's catastrophic.
4. The cylinder creates bulk
But revolvers are such great concealed carry guns! And they are, don't get me wrong, but when you're tiny small things make a big difference. I've found it more difficult to conceal revolvers because the cylinder is wider than most of the single stack semi-autos I carry. That's not to say it's impossible, I believe anyone can conceal anything with the right wardrobe, but when someone is new to the conceal carry lifestyle you want something that will be as easy as possible to carry.
5. Using a semi-auto is less complicated than driving a car
My favorite argument, "Semi-autos are too complicated." First of all, I've never really seen how. Load magazine, put magazine in gun, rack slide, go. Load cylinder, close cylinder, go. ONE LESS STEP. Seriously, women are intelligent enough to drive cars, and dry their hair while text messaging, and, I don't know, use the internet, they can handle a semi-auto.
Again, I'm not saying it's wrong for a woman to buy a revolver as her first gun, I just think a lot of the reasons people tell her to do so are bad reasons.