Hayden, ID – Old Faithful Holsters, the makers of quality, concealed carry holsters and accessories, announces that they are merging with Alien Gear Holsters, also a manufacturer of concealed carry holsters, to become the leading hybrid holster manufacturer in the United States.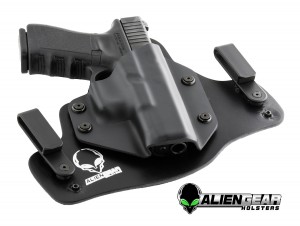 The merger of Alien Gear Holsters, based in Hayden, Idaho, further increases Old Faithful Holster's share in the concealed carry holster market. "The acquisition is also expected to result in greater efficiencies and significantly increase our market share," said Thomas Tedder, president of Tedder Industries.
"A merger was arranged between Old Faithful Holsters and Alien Gear Holsters to strengthen our market position," commented Tedder. "Our combined assets will allow both companies to continue to create quality products, allowing us to pass the savings on to our customers."
The combined companies now have 45 employees.
About Old Faithful Holsters
Founded in 2010, Old Faithful Holsters is the maker of the popular Stealth Tuck and High Rider concealed carry holsters. Old Faithful Holsters are an online holster store providing the most comfortable, concealable gun holsters available. For more information about Old Faithful Holsters, visit www.oldfaithfulholsters.com.
About Alien Gear Holsters
Founded in 2013, Alien Gear Holsters manufactures premium, incredibly comfortable holsters for concealed carry. Alien Gear Holsters are the most comfortable holsters on the planet. Any planet. For more information about Alien Gear Holsters, visit www.aliengearholsters.com.
Contact
To learn more about this merger, please contact:
Tedder Industries
827 W. Prairie Ave, Hayden, ID 83835
Office: (208) 215-2046
Fax: (208) 545-6903
[email protected]