One of the biggest concerns when a new gun hits the market is "what holsters will fit this gun?" To provide a valuable service for our readers, I've been testing the VP9 with various brands of holsters to see what fits and what doesn't. Here is the complete list of holsters I've tested that fit the HK VP9:
1. Safariland 5197 for HK P30 – fits, no adjustment needed
2. Galco Concealable Belt Holster (leather) HK P30 – fits, no adjustment needed.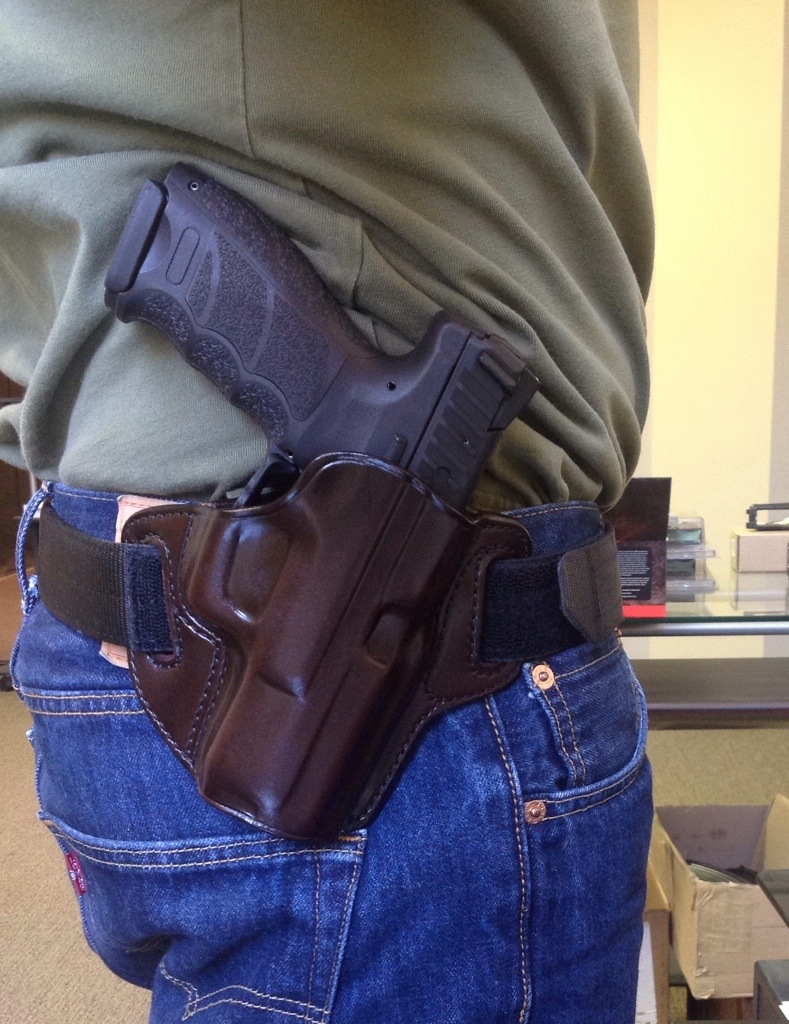 3. Ready Tactical Glock 21 Holster – fits, no adjustment needed
4. Comp-Tac Paddle Holster, Beretta Px4 Storm: fits, minor adjustments needed.
5. Galco Tac Slide Belt Holster for HK P30, fits no adjustments needed
6. Blade-Tech Race holster for HK P30L, fits, retention tightened to prevent dislodging the gun.
We're still waiting on samples of the P30 ALS from Safariland to test, but based on my current testing I'd issue a cautious statement that it will probably work. What I've seen is that holsters for the P30 standard length appear to work just fine with the VP9, despite the extra 0.20 inches of barrel length on the VP9. I believe it's because the added length of the VP9's slide is mostly towards the rear of the trigger; if you look at the two pistols side by side you'll see that the length of the barrel/slide in front of the trigger guard is fairly similar, but the VP9 is longer in the rear section (phrasing).
My cautious assumption from above is based on the fact that the holsters I've tried for the P30 work just fine, and holsters for the P30L have a little bit of extra room near the muzzle. So if you have P30 holsters and you get a VP9, you will PROBABLY be okay. But I can't guarantee that, because individual holster manufacturers will have different specs.
On my part, I did switch my carry holster out from the Safariland 5197 to the Galco leather holster pictured, because it's so sweet looking I couldn't resist.