This is the third installment in our series on Open Carry. Here are the previous installments: Part 1, Part 2.
I went grocery shopping yesterday. The actual experience was interesting, because no one really said "boo" to me the whole time. No one talked to me about the gun, there were no soccer moms diving for cover as I walked past, all in all it was a pretty boring time. It was also nerve wracking, for two important reasons: 1) when OC'ing, there's really no excuse for lapsing out of condition yellow; and maintaining condition yellow at all times is exhausting. 2) When Open Carrying, whether I like it or not, I am acting as a representative for literally every other gun owner on the planet by virtue of carrying my gun where people can see it. That is quite a lot of responsibility.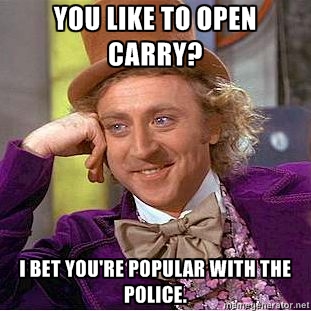 That's what really got me thinking today is mindset. When you're OC'ing, mindset is critical. You are a representative for all gun owners, regardless of whether or not you believe it, or if you want to be. Because your gun is visible, you cannot be the grey man, you can't blend in to the background. People see you, they know immediately "that guy is a gun owner."
As a result of that, even small, seemingly insignificant actions become incredibly important. I normally try to have decent manners when I'm out in public, but when I'm representing gun owners? Everything is "please, thank you, yes sir no sir three bags full sir" because the impression I want to leave people with is "what a nice man that was" not "look at that d-bag with a gun, didn't I just see a news story about a-holes like that?"
The other part of mindset is the situational awareness required to OC safely. Let's be honest, I am probably not going to get jumped in a HyVee in Sioux Falls…but there are certain things that you should do while OC'ing regardless of your surroundings. The most important is not let people close enough to touch or grab your gun, which can be challenging in a checkout line. You also don't want to hit stuff with the butt of your gun, or get it snagged on something. That's a big part of why I use a retention holster for OC, because a far more likely scenario than a gun grab would be my gun catching on something and flopping out on the ground. Then I'd be that guy, and no one likes that guy.
I still have yet to have the cops called on me, and no one, aside from a local OC activist, has even mentioned the gun. The mindset of safely OC'ing is going to be something I focus on pretty continuously during this series, because I really can't stress enough how much responsibility you carry with you when you Open Carry. Like it not, you are a representative for all gun owners. Be a good one.