It's no secret that I have been extremely critical of the Open Carry movement in the past. For the most part, I find OC "activists" to be nothing more than attention seeking troublemakers, who are at best a nuisance, and in the case of Open Carry Texas are actually helping the other side win mass media victories. But on Sunday, when I got up and put my gun on, I did something a little different. I decided to OC, because it occurred to me that if I really wanted to understand the open carry "community" I should make an active effort to actually open carry.
So for the remainder of the month of June, I'm going to use open carry as my primary method of carry. Here are the ground rules:
OC wherever it's legal with certain exceptions (I won't OC at church, for example, because it's rude)
Don't be a dick
Dress like an adult
Use a grown-up gun in a retention holster
A couple of things right off the bat – I will not be carrying a gun at people. I'm just carrying a gun, and going about my regular daily activities. So if I have to run an errand or perform a task, it will be exactly the same as it would have been if was carrying concealed, I'll just be carrying the gun in the open. I'm not going to walk around and wait for the cops to show up, this isn't some kind of asshole political statement. I am just going to carry a gun…openly.
I realized yesterday when getting ready that the only gun I had a proper retention holster for was my 1911, so right now I'm carrying a 5 inch 1911 in a Galco M4 autolocking paddle holster. I'm also wearing a tucked in polo, a nice belt, and clean shoes.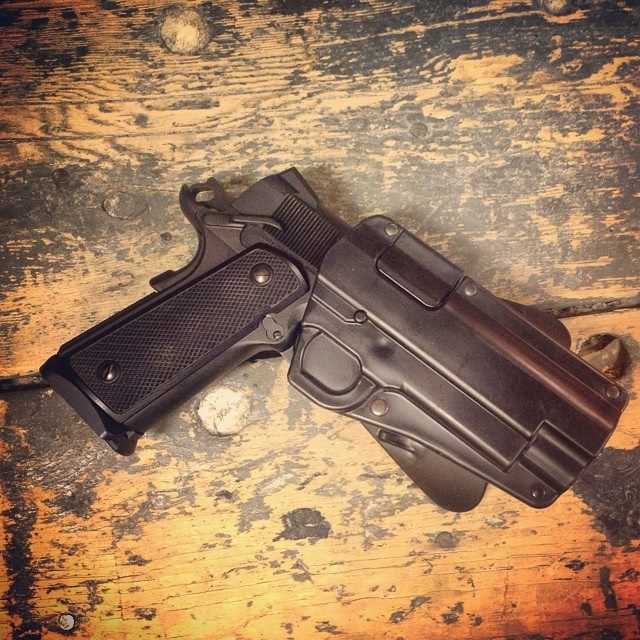 Each day, I'll update the series with notes from my OC experience. Yesterday was pretty boring, went for a hike in the state park. I have to say the most striking thing about OC vs CC is I feel weird. It feels strange and unusual to not bother to conceal my gun, especially since I'm not at a match. I do have to be concious of something else – at matches, where I am by default openly carrying, I have the habit of resting my strong hand on my gun. I can't do that in public, because it would look REALLY weird.
Ultimately, the goal of this is simple: just carry my gun like I would any other day, just not concealed. I'm not going on OC walks, I'm not wandering around with a rifle slung over my shoulder, I'm just a dude dressed like a grownup going about his business. With a gun.