Heckler and Koch is sending us a VP9 for review. First off, that's awesome, because this is the first HK pistol I've been genuinely excited about in a long time. I like the hammer fired guns, but they never really clicked with me. I guess if I'm getting a gun with a hammer on it, I feel like it should say "Beretta" on the slide.
However, the VP9 has me excited. The first reason is the price point. From HK's website: "Suggested retail price of the VP9 is $719 with projected availability of July 2014." That puts this at $200 cheaper than the P30, and makes it a direct swing at other guns in the market. HK has also confirmed that sights for the VP9 are the same as sights for the P30, so if you want to change the sights to a different type your existing P30 sights will definitely work on the VP9.
The trigger pull on the VP9 has been highly touted as well; with shooters who've fired it comparing it to the excellent trigger pulls on the Walther PPQ and Sig P320. The gun comes with the grip customization features of the P30, and also accepts the same magazines as the HK P30. Additionally, Taylor Freelance mag extensions will work on the VP9 according to web reports, meaning you can expand the capacity up to 19+1 if you'd like.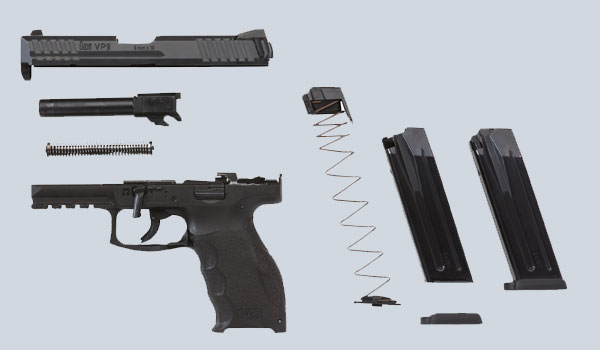 It's not often that I get legitimately excited about a gun. Every now and then something comes along that really does seem like a game changer. No, polymer striker fired guns aren't new; HK isn't new, but a striker fired HK at a price point that makes it competitive with other guns in the market? That's a game changer right there. If this gun holds up to the legendary HK rep for reliability and accuracy, it could really shake things up.