I would like to express my frustration with the hunting industry. They are incredibly kind, and incredibly welcoming – but it's just a difficult sport to get started in. My options are mostly regulated to "go out into the fields of South Dakota with my friends" or "buy a 2,000+ dollar safari." Now, going out into the fields with my friends isn't a horrible option, but I feel like there has to be something better – because not everyone has friends like mine.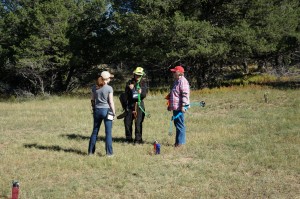 So here is my suggestion, hunting industry: An "introductory hunt" program. You see, despite my professional success, there are some things I'm really not too bright about. I am in desperate want of a list of what permits I need and how to get them and when I can shoot stuff and how I can find when I can shoot stuff because I know its out there. I also want someone who, in exchange for money, will spend a few hours with me on a simple, low-pressure hunt. I don't even care if I shoot anything; I just want to learn what it's like.
I've been through some really basic hunting programs at the NRA Women's Wilderness Escape, and once got up at 5 a.m. to follow the other ladies at the Girls Gun Getaway on a coyote hunt – but I still feel like I don't know where to start. And I know, I know, if I am confused there are plenty of other people out there who are confused too.
If that information is available out there on the world wide web, where is it, and why are hunting companies not promoting it? To a certain extent, I feel like I must be missing something – I have the knowledge of the world at my finger tips, but I can't for the life of me figure out how to get my own food. I know the information is out there, but it shouldn't be so difficult to piece together.