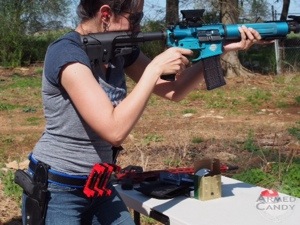 In many shooting competitions when you see a small shooting box demarkation on the ground you know, this is the spot from which I will shoot. These boxes are usually about two feet by two feet. Shooting from anywhere outside this box is is a really bad idea. But in 3gun this is not exactly the case. Shooting boxes are often huge and they give the shooter a lot of freedom. As I began learning about 3gun and attempting to combine running, shooting and thinking, this freedom began to confuse the heck out of me.
When running with your gun there are a bunch of things to remember: don't flag yourself, the 180 degree rule, where is my next target, don't trip, where does the shooting box end… That's a lot to keep in mind when the buzzer sounds. Here is where the pre-stage walk-threw can come in especially handy. Many pros walking through a stage while miming sighting in their gun, but if you look carefully they may also be looking very carefully at their feet.
That's why I was grateful for this simple pro tip from James Casanova of the Noveske Shooting Team: as I walk through the stage I should position myself at each point where I plan to shoot at a target. The target isn't going anywhere, so if I pay attention to the ground when I'm running and head for a certain spot with a certain foot position, when I get there and look up, there will be the next target! Memorizing where to run and how I will place my feet when I get there, will allow me to focus on shooting as soon as I look up. I think this compartmentalizing of the tasks at hand will really help me in certain maze-like stages and the others as well.