You put your gun on every day and go about your business like a normal person. But there are some things that you do a little bit differently because you carry a concealed firearm, and that's okay. Because you get it. I get it. You're welcome here.
1. Worrying about printing
You know what I'm talking about. When you first get your carry permit, there's this little voice in the back of your head that screams "OHGODOHGODOHGOD EVERYONE CAN SEE THE OUTLINE OF MY GUN THROUGH MY SHIRT I'M GOING TO GET THE SWAT TEAM CALLED ON ME OH GOD".
Relax, no one can see your gun, and most people are too wrapped up in their iPhones to even notice.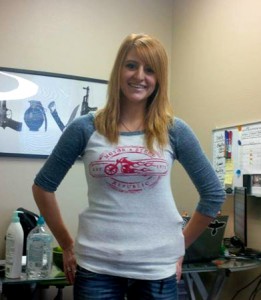 2. Having a drawer full of holsters that you've tried out and tossed because they didn't fit quite right
We have all done this. Turns out, people are all sorts of different shapes and sizes, and what works best for me might not be best for you.
3. Making sure you sit in the restaurant section and not the bar when you go out (certain states)
Some states don't allow carry in bars, some allow it in restaurants, and some (like Indiana) just don't care. Regardless, CCW know the pain of wondering "is this place a 51% establishment or not…"
4. Scoffing at "no guns allowed" signs that don't have the force of law.
Some states (like Texas) have specific laws written for establishments that want to ban guns. If the posted sign doesn't use the correct phrasing in the law, it's pointless and has no power. Many places those signs don't have the force of law at all.
5. Buying all your pants one inch too large in the waist to accommodate an IWB holster
We've all done this. Buying new jeans and thinking "Is my carry gun going to fit these?"
6. Having to be careful about hugging new people so they don't find your gun
Dating and carrying is THE WORST. "Oh man, this girl wants to hug me, good thing I'm carrying appendix so I can give her the Christian Side Hug and she won't feel my gun."
7. Planning road trips around which state honor your carry permits
Every. Time. "Hey, we can go here and here, and I won't have to take my gun off. Sweet, let's take a vacation to beautiful Missouri, they honor my permit!"
8. Really hating life when your concealment garment is too warm for the weather
We've all done this. Thrown on a hoody or something for concealment when going out with friends, then it turns out to be 10 degrees warmer than the forecast. Can't take your jacket off because you're carrying, so you spend the day marinating in your own sweat.
9. Taking a knee to pick up dropped items instead of bending at the waist
Related to number 1! You don't want people to see your gun if you bend over, so you take a knee Tebow-style to pick up things you've dropped.
10. Relishing that moment of surprise when someone you've been hanging out with all day finally realizes you've had a gun the whole time
"I AM A CONCEALMENT GOD"