Today in "musings on self-defense" I want to talk about unarmed self-defense. Right now, the hotness for unarmed self-defense are techniques derived from MMA, because we have actually proved that all that stuff works really well to inflict violence on other people. BJJ, kickboxing, and traditional American boxing are the hotness and for good reason. Mixed Martial Arts has been the best thing to happen to the world of unarmed combatives in my lifetime, because it is absolutely no BS. Oh, you're a super-ultimate fighter in 10 secret arts of ninja-dom? Saddle up, buttercup and get in the ring and prove it.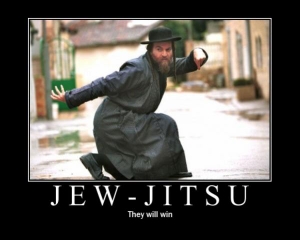 To be honest, the unarmed self-defense community is still a bit of a clown-show, because there are plenty of derp-instructors who teach techniques that are "too dangerous for the ring" and "can't be practiced on living people". You know, like the Five-Finger Death Punch or whatever. These days, there seems to be no bigger perpetrator of unarmed derp than teachers of Krav Maga.
What is it with Krav that attracts derp like flies? Is it for the same reason that 50% of the neckbeards on Arfcom will buy something "because the Israelis use it?" Just as an example, here is an actual list of things that Krav Maga students and instructors have said to me over the years:
"It doesn't matter if you have a gun, I could just take it away from you."
"Oh sure, MMA is cool but that's not real fighting. They're all padded up, a good Krav student could take most MMA guys"
"Gun disarms are easy"
"I just need one shot and you'd be down"
And on and on and on. I do actually believe that there are plenty of legitimate KM instructors out there who are teaching valuable techniques in an intelligent way…I've just never met one. All of my encounters have been of the Derp Clownshoe variety, and I wonder when that started. It might have something to do with the fact that there's no national sanctioning body for Krav, so anyone can take a couple of classes and then hang out their shingle as a "self-defense instructor trained in secret Israeli Death Arts" which is a problem mirrored in the firearms training community. Other martial arts like BJJ or taekwondo (not really self-defense but that's not the point) have some level of national sanctioning with checks and balances. The American boxing community has all kinds of organizations in place.
All of that is why when someone tells me that they're taking a "krav maga" class, my eyes immediately start to glaze over. I expect derp to follow, and maybe someday I'll be surprised when it doesn't.