I made a tactical error at SHOT Show this year. Anyone who has been to any trade show will understand and probably cringe when I tell them. You see, I packed shoes I hadn't worn before. A really cute pair of flats I snagged on sale that went really well with my new business outfits. Of course, within the first two hours I had cuts on the back of my heels, and by the end of the first day… Well, you can imagine.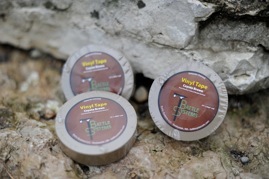 By the end of the second day, I had also managed to sprain one of my ankles, hobbling around in heels at the Women's Industry Dinner that hit in the exact same spots – the exact same cuts – as those flats I had worn the first day. No, I'm not here to whine, I'm here to tell you how I made it through.
We met up with Anette Wachter for dinner, her husband and one of their friends was there. Their friend ran BattleSystems LLC, and he didn't know it, but he was about to save my week. As we were chatting, he showed us a roll of his Coyote Brown Vinyl Tape, explaining that it matched the color of brown in MARPAT and Multicam perfectly, he handed us a roll. I couldn't help but think, "What am I going to do with this?" Well, I'm a believer.
The next day we bandaged up my foot with a piece of Kleenex and wrapped and it in the BattleSystems Vinyl Tape. I won't go anywhere without it ever again. It had the elasticity to hold all day, and because it was designed not to leave residue on the gear, it pulled comfortably off my skin in the evening, plus the brown meant that it wasn't as apparent when I was wearing heels.
Maybe that's not its intended usage, but a roll lives in my suitcase now, and if I was someone who used MARPAT or Multicam gear – a roll would live in that too.