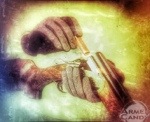 There seems to be a simmering debate that folks are not directly addressing. This is the question of pistol grips on shotguns. I was doing a little research on 3-Gun shotgun preferences and I found that in most cases competitors prefer a traditional stock. However, anyone who is a fan of pistol grips on their scattergun has told me that it gives them a tactical advantage. Is there no overlap between the tactical community and 3-Gun on this?
I tend to believe that 3-Gun is one of the most tactical of the shooting sports, so I began to wonder why there was such a difference of opinion when it came to pistol grips on shotguns? Some will tell you that having this protruding part coming from your gun will actually slow you down. I could see how this might be the case depending on your reloading method. Others, who would not give up their pistol grip, feel that this part gives them comfort and stability. I can also see their point. There is a certain extra level of stability and ease of grasping that a pistol grip will offer.
When I look at CZ-USA's new 712 Practical, I begin to wonder why they went with the adjustable stock with pistol grip, especially when they are using the same manufacturer, ATI, for their 712 Utility. I would have expected them to flip these two stocks, and see the traditional on the Practical and the pistol grip on the Utility. What do you think about their choice? And about pistol grips on shotguns in general?