But not everything is beneficial. Take a look at this image, presented with no context whatsoever and tell me what immediately jumps to mind.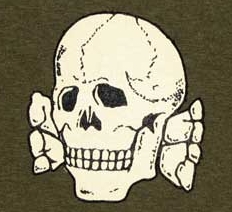 If you're like me, you looked at that image and immediately thought of the Totenkopf, which is most commonly associated with the Nazi SS and/or the 3rd Panzer division during WW2. However, if you're an employee of Smith Enterprises in Arizona, you thought "sweet skull bro, let's put that on merch." This brings us around to the title of the post. Smith Enterprises is absolutely free to put whatever logos they want on their merch. It's their company after all. But that freedom doesn't mean that what they're doing is smart, or beneficial for the community at large.
The vast majority of people who see that logo will see a Nazi skull. They just will. Smith has responded to those criticisms with varying levels of butthurt and indignation, with their rebuttal summed up roughly as "nuh-uh!" That just reinforces the readily available negative stereotypes of gun owners all being closet racists, because if you're putting a totenkopf on things and then defending it, you just look like a clown.
Smith Enterprises: they make some really cool products for M14 rifles. But in putting an obvious Nazi symbol on their merch and then responding to criticism by putting their hands over their ears and yelling "nyah nyah I can't hear you" they've acted in a pretty foolish manner. I'm not calling for a boycott or anything silly like that, I just want to take this opportunity to point out bad behavior. We're not the PC police, but at the same time there's a certain amount of common sense that should go into stuff like that.
What do you guys think on this? Am I way off base here, or do you agree? Let me know in the comments, I'd like your feedback on this one.