In this week's 90 Second Gun Review, I tear a few strips out of the Kel-Tec PF9. The gun is cheaply made with indifferent quality control, but at the same time it's not like they're asking HK prices for the gun. The price point of certain things is why you won't see me hating too much on Hi-Points these days. Yes, it's a terrible design and yes it's not a very good pistol, but it's still right around $100. Price has a quality all its own, and if you absolutely must have a pistol to defend your life with right now, a Hi-Point is better than a sharp stick.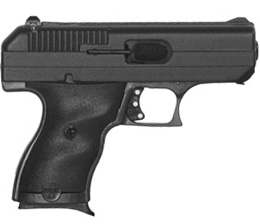 That got me thinking about other kinds of gear though – optics, holsters, slings, belts – things other than guns. We're forever saying "buy the right gear first" which is why I recommend quality holsters from Blade-Tech or Galco, good belts, etc. I'll stick to that message, but the longer I do this for a living, the more I realize that if you're not buying guns for serious self-defense, then maybe you don't need to buy the $400 Aimpoint to mount on your Working Class Scout Rifle. Actually, we'll use optics as a starting example.
On my serious guns, the ones that I would shoot for blood or money, I use quality optics from reputable brands. But on fun guns? Guns I'm not planning on shooting at things with teeth and claws or shooting for trophies? I'll happily buy a Primary Arms MicroDot. Because it's $80.00, and for eighty bucks I don't care if I can't drop it during a HALO jump and expect it to survive. In fact, if I was building a back-up carbine that I wanted as a mirror to a working/competition gun that had an Aimpoint on it? I'd probably buy the PA dot just because it's a little bit cheaper for a back-up optic.
I will say that one area I've never gone cheap on is slings. That's because a good sling turns a heavy rifle into a light burden, but a cheap sling makes carrying the lightest rifle an exercise in misery. Just because dogs can use your sling as a chew toy doesn't make it good – tell me how it feels after an 8 hour carbine class. But again, if you're not going to be taking a carbine class, maybe you don't need to spend the money on quality gear.
Ultimately it comes down to this: serious guns for serious purposes should have quality kit. Your carry gun, your home defense rifle, your hunting and competition guns should all be surrounded by the best quality gear you can lay your hands on. But fun guns? Guns to take to the range and play with? Get whatever makes you happy…or makes your spouse the least likely to kill you for spending all your money on optics and holsters.