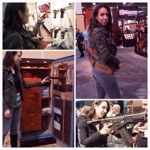 The big secret a SHOTShow 2014 was everyone's interest in marketing to women. Actually, it wasn't much of a secret. For the past three years, I've been writing about how pink guns will not be the end of it. However, what I found most interested, was the way many of the manufacturers would look around and then whisper to me, "we really want to market to women", as if it were a racial slur or something.
I'll admit, women are going to be the curve ball for the big gun manufacturers. Our wants, when it comes to colors and sizes, are completely different than what drives a man to buy a product. Black, Flat Dark Earth, OD green and Pepto pink (as I like to call that color that makes me sick to my stomach) are not going to solve it. The question may require a little, *gasp* market research!
The interesting part , for me, was the whispering. It felt as though the guys were worried about offending women. As though, if women knew they were the target market, we might be turned off by a company who was actually trying to fulfill our needs. Don't be ridiculous! Women want great guns and gear! We've been asking for it for years! We'll only be offended if we are pandered to, with baby pink grips and uncomfortable shooting guns.
Any woman who doesn't recognize that most retail companies want our business, either never leaves the house, or lives with her head in a cloud. Generally speaking, women shop more, spend more money and buy for the whole family. We are a marketer's dream audience. We look for quality products and when we find them, we buy in bulk. What's more, we talk to each other about the good and the bad. Using this knowledge isn't taking advantage of us, it's just good business.
It's an exciting time to be a woman in the firearms industry. The big manufacturers are starting to see that their core customer will not look down on them for offering a women-centric line. Also, they have been told, "Not all women like PINK" enough times, that it's starting to sink in. Now they need to talk to some women (pros, as well as beginners,) hire some fresh minds, and get to work.