Before this SHOT Show there was only one company in the firearms industry that made every gun you needed for 3-Gun: FNH USA. From FNH you could get a SCAR rifle, an FNS 9mm handgun, and your choice of 12 gauge shotguns. At the 2014 SHOT Show, Beretta announced two new guns that would allow them to become the second full-service 3-gun company in the market: the ARX-100 rifle and the Beretta 1301 shotgun.
The ARX-100 is Beretta's new 5.56 NATO rifle. Unlike the AR-70 it uses standard AR15 style magazines. In keeping with the theme of SHOT 2014 around modular rifles, the ARX-100 is fully ambidextrous, right down to the ejection. For left handed shooters, the charging handle and ejection direction can be changed so it doesn't shoot hot brass across your face during firing. Our brief playtime with the ARX-100 left me very curious about the gun. The recoil impulse is totally different from any AR15 I've ever shot. One of the neat things about it as a platform is that it has many of the enhancements from the factory that people build into their AR15s, such as fully ambi controls.

Also new from Beretta this year is the 1301 shotgun. Beretta has offered tactical shotguns in the past, however this is the first time they've gone full-on into the 3-Gun style shotgun. The 1301 Competition features everything you'd expect from a factory 3-gun shotgun: easy to manipulate controls, enlarged loading ports, and magazine extensions are already available to bring the capacity up to where you'd want it.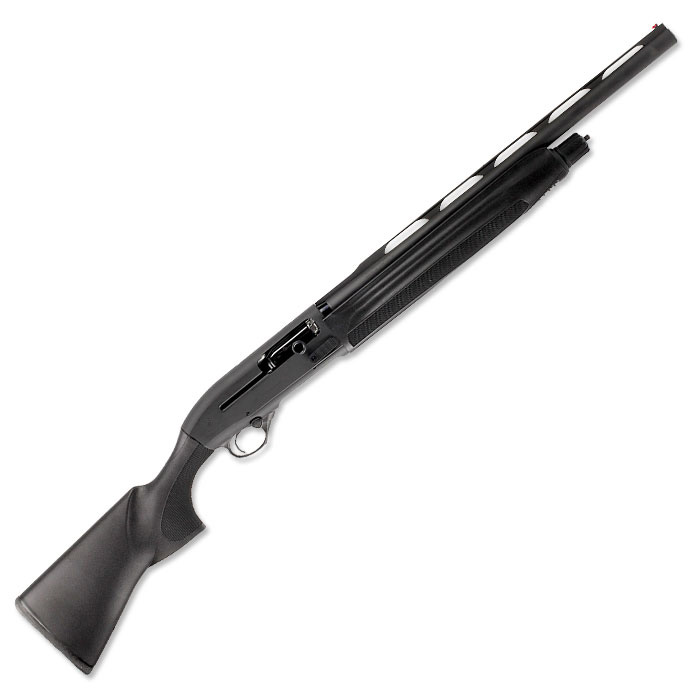 The 1301 Competition is available with either a 21 or 24 inch barrel, and has a standard capacity of 5+1. It obviously accepts a variety of chokes, and includes an improved cylinder choke in the box. To be perfectly honest, I want one of these for pheasant hunting in addition to 3-gun, because in South Dakota there's no capacity limit on your magazine for pheasants. "Accuracy by volume" is the Gun Nuts pheasant hunting motto.
As far as pistols go, Beretta still has their line up of traditional DA/SA pistols in the 92 series, as well as the Storm series of guns. I make no secrets that I like Beretta 92s quite a bit, and even posted on my fan page about how they'd brought back my favorite carry gun of all time, the 92 Compact.
With the introduction of the ARX-100 and the 1301 Competition, shooters can now buy every gun they need for 3-gun from Beretta. Does this mean we're going to see a Team Beretta tearing things up on the 3Gun Nation circuit this year? Will Beretta begin sponsoring shooters to help promote their products to the 3Gun community? Only time will tell. I can personally tell you that I'm absolutely hoping that they do; long time readers of the blog will know that I'm an unabashed Beretta fanboy, and seeing them get in the tactical/competition market excites me.