One of the neat guns we had the opportunity to shoot at SHOT Show was the new Sig556xi rifle platform. A big theme this year with Sig Sauer is the modularity game, and the SIG556xi steps that game up. The trick part of the rifle is that the upper is the serialized part, meaning that lowers can be switched out very easily to accommodate different calibers. We shot two versions at media day: a select fire model chambered in 7.62×39, and a semi-auto model in traditional 5.56 NATO. Both guns were very easy and fun to shoot, and the 7.62 model was easy to control on full-auto.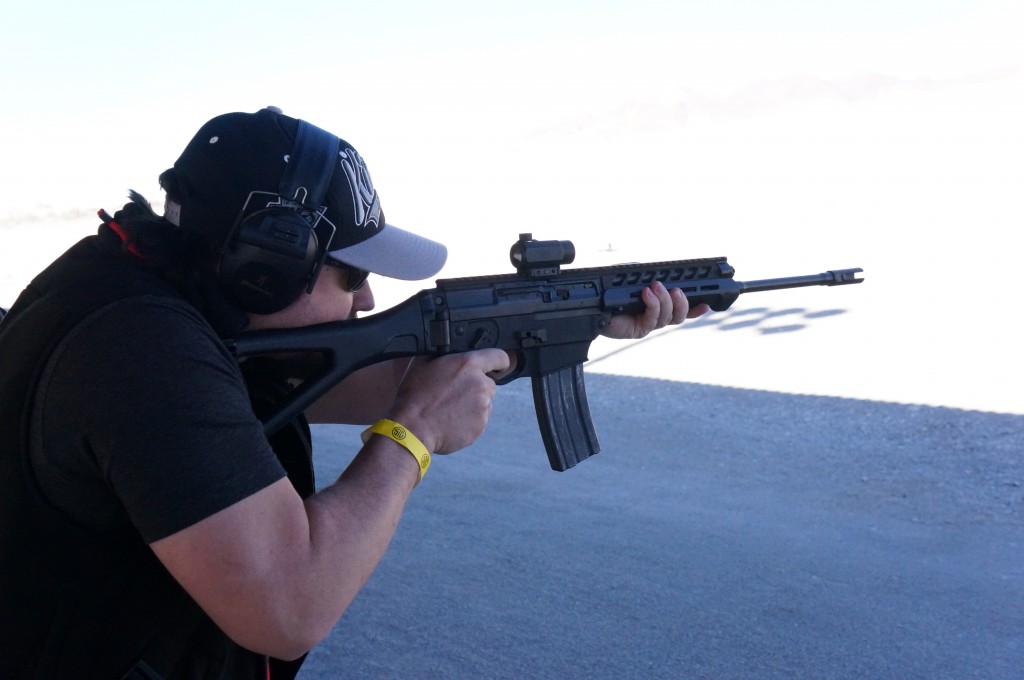 No word from Sig on when they'll be available for dealers, and I'd suspect a retail price north of $1200. I'll keep an eye on that, because it is an interesting rifle. The full press release from Sig follows below.
SIG SAUER® Raises the Bar with the SIG556xi®


NEWINGTON, N.H. (January 14, 2014) — SIG SAUER introduces the SIG556xi, rewriting the standard for modularity, reliability, and performance for the modern rifle platform.

Based on the legendary SG 550, the SIG556xi will change the way military, law enforcement, and responsible citizens look at adaptable rifles. Utilizing the time-tested rotating bolt and adjustable gas piston operating system, the SIG556xi allows operators a choice of caliber, barrel length, handguard/stock configurations and lower receivers.

"The SIG556xi has been designed to be the most modular and easily adaptable, hard-use rifle available," said Jeff Creamer, SIG SAUER Director of Product Management. "From the furniture to caliber to barrel length to magazine preference, the SIG556xi can be completely changed over in minutes to suit the user's needs."

A removable barrel allows the operator to select the necessary length for a given mission. Adding the appropriate bolt, the SIG556xi can be changed to any of three calibers, 5.56x45mm NATO, 300 Blackout, and 7.62x39mm. Users can also quickly change out the non-serialized lower receiver, allowing the use of either AR-style STANAG magazines or rock-and-lock AK-style magazines. The SIG556xi upper receiver is the serialized part, making the lower an easy to purchase part.

Polymer handguards accept all Magpul® light and rail kits, while the aluminum and carbon fiber handguards accept 2", 4", and 6" M1913 rails. Barrels are available in 10", 14.5", and 16". Truly ambidextrous, the SIG556xi features an ambi safety selector, magazine release and user swappable charging handle (right- or left-handed). Optional receiver end plates allow for the use of either AR receiver extension tubes and buttstocks or M1913 compatible stocks

Thanks to a redesigned trigger package, the military and law enforcement versions of the SIG556xi are capable of full-auto fire in every caliber, including 7.62x39mm. The Russian lower has been thoroughly function tested with many available AK magazines, including US P.A.L.M.