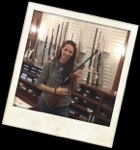 We've all heard of the "Gun Show Loop Hole" and know that no such thing actually exists. Private sales happen the same way inside gun shows as they do outside gun shows. Federal Firearms License holders use 4473 in their stores or if they sell their inventory elsewhere. This was a given as far as I was concerned, until a few days ago when a former FBI informant shared with me this story.
A long time gun shop owner and FFL decided to open up a new revenue stream by selling his inventory at gun shows. Some of his employees would take a few guns, set up tables and make some cash. For whatever reason, whether it be malice, laziness or both, they didn't have customers fill out 4473s during these transactions. When the sales guys returned to the store they would take the serial numbers of the sold merchandise and write them on to old 4473s.
Skip ahead 15 years and the ATF finds a number of these guns in police evidence. They trace the guns from the manufacturer to the distributor to the this shop and then begin auditing the records. As you might expect, this is where the trail goes cold. The unsuspecting customers whose 4473s don't match their purchases, can't explain the confusion and the sales people who signed each form aren't much help either.
The story will end after federal indictments are handed down. Which is expected any day now.
Obviously, many people were involved in carrying out these criminal acts, and many more people looked the other way, but I have to point out how bad this looks for those of us who do the right thing. If you were an employee in this store and you realized what was going on, would you blow the whistle? Do you think what the FFL did was, indeed, wrong?