Since the Clinton AWB sunset nearly 10 years ago, there has been a tremendous explosion in the growth of the American gun culture. Notable spikes occurred in 2008 and again in 2012. Traditionally, you'd expect to see an uptick in hunters, but you didn't. In fact, during the same time period we've seen hunting continue to decline. How we fix hunting is a post for another time, because today we're talking about what really saved the gun culture: first person shooter video games like Call of Duty and Battlefield.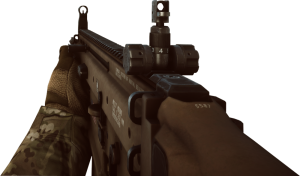 Despite the media (and some misguided pro-gun people) attacking these so-called "violent video games", the fact is that playing Halo has never turned anyone into a murderer any more than owning an AR15 does. In fact, these games have created a symbiotic relationship with the new gun culture. Here's the timeline, based on some research. First, most new gun purchasers in 2008 and 2012 were in that critical 25-35 age demographic. People that age have been playing video games forever. If I had a dime for every person I overheard at West Coast Armory wanting to rent various guns because they'd "used them in video games" I'd have enough dimes to buy a small car, or a single box of .22 LR.
So all of a sudden, we get two crisis events: an anti-gun President gets elected. Suddenly, all of these gamers who've been playing with these guns all their lives are told that the real versions of those toys are bad, and that they shouldn't have them. So what do they do? Buy them en masse. Then four years later, Sandy Hook happens, and once again the government is threatening to take away something they've had. So more buying ensues. Yes, there were regular gun owners buying during those times as well, but we're talking about the new people. The people who show up at IDPA matches with a tac'd out HK45T because in was in a game.
These gamers saved our hobby. Did everyone who plays an FPS become a gun owners? No. Did everyone who became an gun owner because of Call of Field Duty become an ardent supporter of the 2nd Amendment? No. But every time someone buys a gun because "It was in a game I like" we smash another nail into the coffin of gun control.
Remington was a major sponsor of the new Call of Duty: Ghosts game. Trijicon has sponsored Battlefield games. The industry understands that gamers are absolutely current and future consumers of guns and firearms products. It's high time the rest of us got on board and realized that video games aren't the future of the gun culture – they're right now. And we owe our continued existence in part to an influx of new blood that came from these games.