In the last couple of weeks we've been trying to use the Ballistic Radio interview of Justin Schnieders to learn some things about the behavior of criminal predators, and this week I want to finish up by looking at one of the most important lessons Mr. Schnieders' unfortunate experience teaches us: Bad guys do not hesitate.
Earlier this week Caleb posted "Guns Are for Killing", a writeup about acknowledging the reality of why, exactly, we're carrying a gun in the first place. In it, he mentions the necessity of making your decision about what you'll do well ahead of the moment when you need the gun…and he's absolutely right about that. I'll show you why…
Note that the first armed robber storms in the door gun drawn, and immediately opens fire in an effort to kill the people working behind the counter. One second they're trying to make an honest living, and the next there's some violent felon trying his best to murder them. The would-be murderer didn't pause to consider the morality or legality of what he was doing. He made his choice long before he ever stormed through that door.
Justin experienced a similar phenomenon. Moved to a secondary location, laying face down on the floor, Justin was in a pretty unenviable position. When the bad guy focused on him and began to search him, the bad guy found Justin's holster. Often in discussions of self defense you'll hear that bad guys will flee at the first sign of a gun in the interest of self preservation. Some open carry enthusiasts go so far as to argue that no bad guy would dare pick a fight with somebody who was armed.
The man who shot Justin apparently didn't get the memo. As soon as he figured out Justin was armed and wouldn't give up the gun, he didn't hesitate. He opened fire on Justin, seriously wounding him. To his enormous credit, even though seriously wounded and with gunshot wounds in his hands, Justin managed to get some shots off, deal with what he thought was a malfunction, and resume firing at the bad guy with enough accuracy to put a round into the man who had just tried to murder him. If you think it's easy to shoot at pistol when you've been shot in the hands, it's not.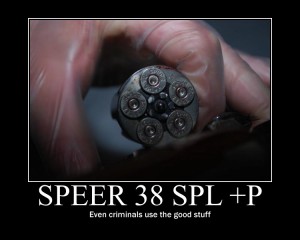 The picture to the right was taken by the police investigating the assault on Justin. They recovered the gun used by the perp and found that he had used all the ammo he had in the weapon trying to kill Justin. When the bad guy figured out that he was out of ammo but Justin was still shooting, then he decided to make a run for it.
As I mentioned in the series on capacity, folks often wonder how much ammo you "need" in a self defense scenario. The answer can be quite simple: More than the guy trying to kill you. Generally speaking, being the first guy in the gunfight to run out of ammo isn't a good thing.
The man who tried to murder Justin didn't hesitate to throw everything he had at the good in the effort to win. He planned the attack in advance, and he had experience using violence as a means of victimizing others. He made his important decisions long before the moment when he pulled the gun on a group of friends minding their own business.
This is often where discussions go off the rails. To be absolutely clear, I'm not talking about walking around with a 1,000 yard stare and drawing down on anybody who looks at you funny. That's ridiculous nonsense pushed by people who either don't understand the question of violence or who are ignoring it because they want to avoid making an honest argument.
The truth is simple: There are people in this world who have made the decision that they will not hesitate to take your life over trivial nonsense like the cash in a till or the iPhone in your pocket. You can see video evidence of them above, and you can listen to Justin or Jared Reston's account of coming face to face with one in the flesh. They're real. The violent criminal won't hesitate.
If you want to protect yourself and your loved ones, you must not hesitate. Just as Caleb said in his article, you have to make peace with what you need to do well in advance of the moment where you are face to face with this sort of violent predator. In that moment you must act swiftly and decisively to seize upon the limited time where you can positively impact the outcome in your favor. You don't have a choice.