While the title of the post is a bit inflammatory, it does serve the central purpose of this post: if you carry a gun for self-defense, you must be willing to use that gun and understand that the possible consequences of doing that could result in the taking of another human's life.
This gets tossed around a lot as "warrior mindset" or "mental conditioning" and has been addressed by some of the best and brightest minds of the self-defense and training community. Jeff Cooper himself spend a considerable amount of time on this topic, and believed that anyone who carried a pistol for defense should also have hunted and killed something at least once.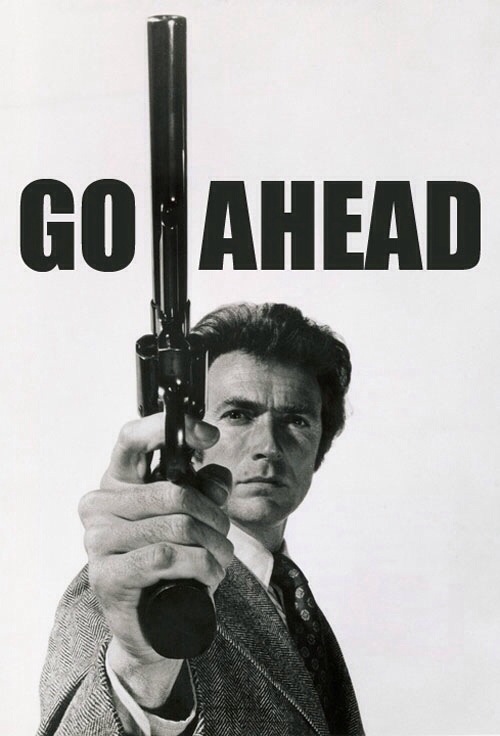 Cooper's reasoning was simple. He believed that if you ever needed your gun for self-defense, that shouldn't be the first time you've ever pointed a gun at a living thing with the intent of pulling the trigger. I absolutely agree with him on this, but I also realize that in this modern day and age, not everyone who carries a gun for self-defense even has the opportunity or inclination to go hunting. So how do we accomplish the important goal of mentally preparing ourselves for the possibility of violence?
We've addressed this topic many times in the past, and the first and most important thing you can do is make your decision now. If you're waiting until the actual moment of violence to decide whether or not you're going to use your gun for self-defense, you've waited far too long and it's likely too late. Deciding when to use deadly force is an important decision; and you have to train your mind to know what your triggers are. When do you draw your gun, when you do fire your gun, what do you after you fire your gun are all things that you should know and have a plan for well before you ever tie on your heater and go to town. The best way to do that is to train & learn. Our old friends at InSights Training Center in Bellevue, WA have a great class called Street and Vehicle Tactics, which sounds operator as hell but is actually about managing possible dangerous encounters in every day life. It's a great class. There are plenty of other good classes as well, and plenty of good information out there such as SouthNarc's documents on Managing Unknown Contacts.
Once you're educated, it's thinking time. Go to your quiet place, and actually think to yourself "I will use deadly force once the following parameters have been met: x, y, z." Write it down. Make a list of what you will use deadly force to prevent. Don't create imaginary scenarios, but keep your categories broad. Here a couple of mine: "I will use to all necessary force to prevent an attacker from physically restraining me." Remember when you're making these decisions what the legal lines are in your state to allow you to use deadly force as well. But you must make those decisions now, when you're calm and at peace.
The second aspect of preparing yourself mentally is actually related to killing. You cannot shoot someone "just a little bit". If you shoot someone who is trying to do you harm, there is a very real chance that you're going to kill them. There's really no way to prepare yourself mentally for what happens after your take someone's life, but you can take steps to prepare yourself for the moment itself. Obviously, going hunting is a great idea. Realistic force on force training with sim guns or even paintball can help. Yes, even first person shooter video games can be used as training tools in this regard. On the FPS note for a moment: we do not believe for even a hot second that first person shooters "make people violent" or any of the silly nonsense that you hear about "violent video games", however we do acknowledge that the military has used FPS games as training tools in the past specifically because you're pointing a simulated gun at a simulated person.
However, our bottom line is this: if you don't know whether or not you could pull the trigger if you needed to, if you haven't made that decision, or if you're not willing to accept the possibility that you might need to kill someone, then you shouldn't be carrying a gun. Guns are dangerous, and carrying a gun comes with a tremendous burden of personal responsibility. If you're not willing to accept that responsibility, get some pepper spray or a big dog.