The number 2 complaint that I've received about yesterday's post on the 10 Greatest Handgun Cartridges is "why no .40 S&W?" The number 1 complaint is why not .22LR, but that's simple – no rimfire cartridges allowed. But back to the .40 S&W, which was excluded from the list because it's just very great. Look at the other cartridges on the list – the .357 Magnum, the first magnum cartridge. The .455 Webley, which served the British Empire, then the Commonwealth for just as long as the .45 ACP served our nation. They're significant, they're historical. The .40…is not.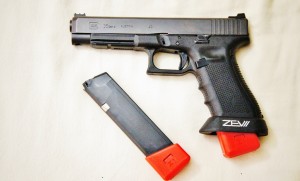 We'll start with ballistics, because that seems to be what everyone talks about. There is nothing you can do with a .40 S&W in terms of terminal ballistics that you cannot do with either a 9mm or a .45 ACP. Modern hollowpoint ammo such as Winchester Ranger or Federal HST are all designed to do much the same thing, which is penetrate over 16 inches of gel after defeating common barrier materials. That's it. That means that your .40 S&W loaded with Ranger JHP is going to do the same thing as a 9mm loaded with Winchester Ranger JHP. Sorry, .40 fanboys. The truth hurts.
Now, let's talk about historical significance. You could argue that the .40 is historically significant because for a time it was the most popular cartridge for law enforcement in America, and I'd be willing to entertain that argument. However, that still makes it less historically significant than the .38 S&W, which was the standard issue cartridge of the British Commonwealth, and less interesting than the .380 ACP even. It's really more of a historical footnote – a remnant of a time before agencies and shooters began to understand that "handgun wounds are pretty insignificant in any caliber, so maybe we should worry about shooting better." It represents the evolutionary dead-end of the 10mm, which is actually an interesting cartridge because of its magnum-esque characteristics and current, dedicated following. But the .40? Well, it's just sort of here. If it hadn't been for namby-pamby government bureaucrats, we'd probably never have been saddled with the .40 as is.
There is one thing that the .40 is good and notable for – and that's making USPSA Major Power Factor while still having a significant ammo capacity advantage over guns chambered in .45 ACP. I find it tremendously amusing that the cartridge most often loved by tactically obsessed shooters finds its most useful roll in gaming.