ProMag Industries, makers of magazines for semi-automatic firearms that are notorious for their unreliability has launched a new product which proves that a fool and his money are easily parted. You can now buy a $200.00 Mosin-Nagant Conversion Stock, which will replace the factory wood on your Mosin with what looks like a drunken attempt to make a Magpul stock for a Mosin.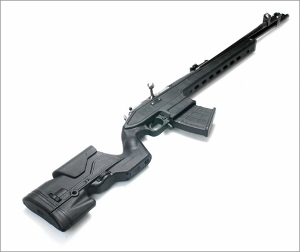 Now, let's get a couple of things straight here. I generally like Mosin-Nagants, because I'm 100% in favor of affordable rifles that are capable of hitting a man-sized target at about 100 meters. The 7.62x54R cartridge produces ballistics largely similar to the .30-06, which means it's also a good gun to bring down most North American game animals. The Mosin is a tough, rugged, and dependable rifle, and if someone had just $150 bucks and needed a rifle RIGHT NOW, it's a smart choice.
However, buying a $200 stock for your Mosin is about as close to a perfect example of putting lipstick on a pig as I can imagine. Hanging cheap parts off your gun will not make it shoot better. Of course, what people do with their own money is their business, but as a consumer advocate I would counsel against spending perfectly good money on dressing up a Mosin-Nagant in silly, cheaply made aftermarket stocks and parts. Or, to put it another way: "MOSIN NAGANT IS FINE, USED TO KILL MILLIONS OF NAZI HORDES JUST FINE WITHOUT CHEAPLY MADE PARTS OF CHINESE PLASTIC."
A Mosin can absolutely be a serious rifle. I am not so enamored with the AR15 that I can't see a place for an old fashioned bolt gun in today's world of rifles; in fact there are many situations that I can imagine where I'd take a well trained marksman with a Mosin over a CODkiddie and his tacticalized AR15 any day of the week. In fact, just typing that sentence makes me realize the nature of my objection to this sort of accessory – it's fundamental unserious, like putting a giant rear spoiler on a front wheel drive Honda while neglecting any actual performance tuning. There are functional ways to improve the shootability of your Mosin-Nagant, but buying this stock isn't one of them. Here's a short list of things you could buy for a Mosin that will actually help you shooting it better that cost less or the same than this stock:
A Timney trigger ($100)
900 rounds of 7.62x54R ammo ($190)
An introductory rifle class
I'm a big fan of silly things. I have a 400 horsepower muscle car. It has some fundamentally unserious parts on it, like a giant exhaust, chrome wheels, and a chrome shifter handle. If you want to buy this rifle stock because "it looks cool, and I like that sort of thing" go ahead. But be honest with yourself, and don't waste $200 bucks on a cheapo plastic stock because you think it will make your Mosin-Nagant shoot better. Chrome wheels don't make my car any faster in the quarter mile, and a cheap plastic stock won't make your Mosin a better gun.