This weekend the management team from GunUp the Magazine were down in Grand Island Nebraska to shoot the Area 3 Championship. This was my first Area match since Area 5 in 2010, and to be frank USPSA major matches hadn't really been a priority. For Shelley, this was her first Area match and I imagine that she'll have some great insights about it in the magazine.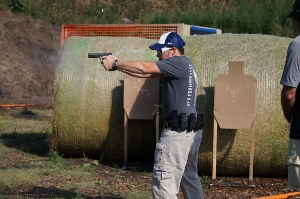 The Facility
The match was held at the Heartland Shooting Center, sponsored by Hornady. Hornady's HQ and manufacturing facility is located about 5 minutes from the range, so there is very much a natural partnership there. The range itself is nicely laid out, with ample parking and access to the shooting bays. Unfortunately, the drainage isn't great, which meant that the rainstorm the night before the match caused some significant mud issues near the berm area in several stages. Traction was an issue throughout the day on Friday, not just while shooting but while walking, taping, and resetting. I don't want to take away from the facility though, because I would imagine that had it not rained I'd be raving about how tidy everything was and easy it is to access. I really like the layout at the Heartland facility, and would return there for a match…in the dry.
Facility Grade: B
Stage Design
Good stage design can make or break a match. At the recent Great Plains Sectional, the stage design was excellent. A good mix of short, medium, and long courses meant that a poor performance on a short stage could be made up with a win on a long stage worth more points. I feel that mixing short, medium, and long courses ads to a match, as it emphasizes the value of 32 round stages without simultaneously devaluing short courses. I have to say that the stage design at Area 3 wasn't as good as at the Great Plains Sectional. There were 14 stages in 12 bays, and 10 of those stages were 30+ rounds. The minimum round count for the match was more than 380 rounds, I personally shot 386 rounds of .45 ACP, and did approximately 1 billion reloads. My opinion on the stage design at Area 3 was that it lacked balance. In a 14 stage match, I personally would like to see five 28-32 round stages, five 20-27 round stages, and four 10-19 round stages. Now, that's my opinion, and I'm not an Open shooters. I assume that if I shot Open or Limited, I'd be singing a different tune. I do also want to take a moment and salute the two brave, courageous, noble revolvermen who campaigned through this match with a six-shooter. You two gentlemen are heroes.
Stage Design Grade: C-
My Match Peformance
I came into the match with a pretty simple goal: finish in the top 5 in Single Stack. Final SS Result: 4th place. Sweet, I'll take it. A critical look at my match performance reveals pretty much the same as it's been all year – I shot good points, about 94% of the available points; my best finish was 3rd place on 4 stages, and in general shot a low A-class/high B-class match. I was pretty happy with my performance on Stage 1, which had the option to shoot some sideways targets at around 50 yards, or sprint downrange and gun them from short range. I took the long shots, and only dropped 1 delta on the entire stage. Proving once again that if all I need to do is stand still and hit stuff, I'm pretty good at that.
Match Performance Grade: B+
At the end of the Friday I shot the match, I was wiped out. 11 hours on the range took a toll on me, and I ended up wishing I'd shot the match in the two day format instead of a single day. I know I made some mistakes at the end of the day on two stages that cost me dearly, and could have likely finished 3rd had I been more focused and not as run down. That's something to remember as part of my training – 8 hours is about as long as I care to spend on the range in a single day.
One related final thought: The BBQ truck that catered the match was DELICIOUS.