Yesterday, the thought exercise "fight coming" post picked up a comment which was most likely 100% fictional, as it referenced non-existent "S&W teflon coated flak jacket penetrators."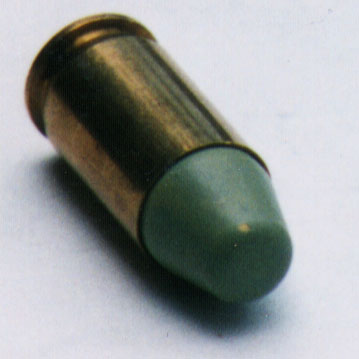 Now, nevermind for a moment that as near as I can tell, S&W never made a teflon coated round, let's instead put a bullet in the entire grand myth of teflon coated rounds. First, we must examine the Hollywood myth around the teflon-coated rounds. Likely the best example of this is in one of my favorite movies, Lethal Weapon 3.
Now, the LW clip never calls the rounds out explicitly as being "Teflon-coated" but there are plenty of other mentions in media and even the news that do. So, the general assumption made is that Teflon coated bullets have better armor penetrative properties than standard jacketed ammunition because of the Teflon. This is only partly a mistake.
The Teflon coated bullets as we know them today were originally developed by a company called KTW, Inc. KTW did in fact set out to design a bullet that had better barrier penetration capabilities than the common service rounds in use in the 60s and 70s; they accomplished this by using a projectile constructed primarily of brass with a steel core. If that sounds familiar, good, because a considerable amount of former Communist Bloc rifle ammo uses a mild steel core to achieve better barrier penetration. Back to KTW, in their initial tests of the ammo, they found that the brass/steel bullets caused significant and rapid barrel well as well as poor accuracy. The alloy of the projectiles was too hard to properly engage the rifling of the barrels, hence the wear and accuracy issues.
This is how Teflon entered the picture; when used outside firearms applications, Polytetrafluoroethylene (Teflon) is valued for its low co-efficient of friction against other solids. This is why its used in non-stick cookware, as a lubricant, and numerous other commercial applications. When used with bullets, the coating of Teflon was specifically to help the bullet engage the rifling better and prevent the aggressive barrel wear caused by a naked projectile. It's somewhat similar to the current practice of coating lead bullets with Molybdenum disulfide to prevent excess leading. These are commonly referred to as "moly-coated" bullets, and are quite popular with reloaders.
This leads us to the question of what happened to Teflon coated rounds? If the Teflon was only used to help the bullet engage the rifling and not wear out the barrel, why the big hubbub? Well, the first problem is that the rounds did actually work pretty well. Mind you, not because of the Teflon coating, but because a hardened brass/steel projectile is probably going to be pretty effective at going through stuff a soft lead bullet won't go through. Enter the mainstream media; in 1992 or 1993, NBC News ran a hit piece on "cop killer" bullets, which in typical MSM fashion focused not on the projectile itself but rather on the Teflon coating. This bit of news reporting went 90s-viral, and "cop killer bullets" became a common talking point for the powerful anti-gun groups of the 1990s. The result was legislation in many states that explicitly bans Polytetrafluoroethylene/Teflon coatings on firearms projectiles.
Teflon coated bullets were an interesting side track on projectile development, but have fallen into the dustbin of history due to an inaccurate hit piece by the mainstream media. Now the world at large remembers Teflon coatings on bullets as some sort of magical round that zips through bullet proof vests because of the magic of Teflon.