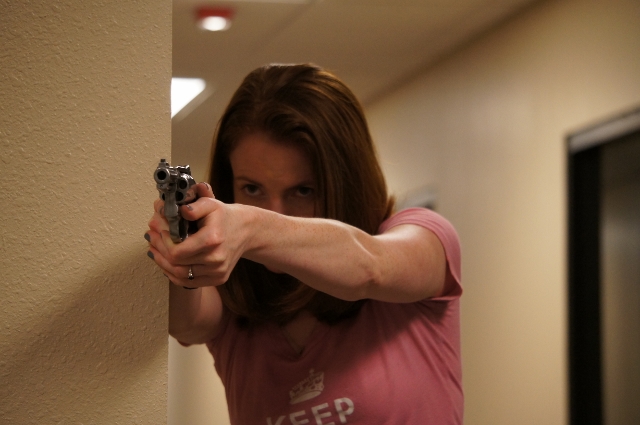 Shelley Rae clears a corner with a S&W 640 Pro Series. This photo was originally taken for an article that will appear in Combat Handguns. However, it also got me thinking about a very specific gun photography topic, which we'll discuss below the jump.
The topic is muzzle on photos, such as the one above. They're actually a fairly common staple in the firearms industry, because we get tired of looking at the back of people's heads. It shows the shooter's face, and can show us an aspect of the gun that we, as the owner of the gun don't frequently get to see.
They also tend to stir up a lot of brouhaha, because some people are adamantly opposed to them because it gives the appearance of violating one of the 4 Rules. I'll use this picture for an example – we didn't use a tripod, so the photographer was in fact "downrange" of the muzzle. However, the gun was verified unloaded by the photographer and the shooter prior to the pictures, and the room was cleared of any live ammo. Additionally, Rule 2 was observed 100%, and the muzzle never covered anything we weren't comfortable with destroying. So in a sterile environment like this, muzzle on photography is safe and can provide some cool shots.
But what about when live ammo gets involved? Let us know you thoughts in the comments.