The P226 could rightfully be called the flagship gun of the Sig Sauer line up.  While introduced after the single stack P220 models, the P226 and its variants gained wide acceptance from military and law enforcement across the world.  Renowned for its accuracy, the P226 was also popular with many competition shooters, and although not as popular as Glock in the Production field, Sigs have a faithful and dedicated following in the USPSA and IDPA communities.
In 2009, Sig landed Max Michel as their flagship competitive shooter, and have continued to grow their shooting team since then, adding Matt Cheely among others.  It's only fitting then that Sig Sauer would announce that same year that they would be producing a special edition P226 for the competitive shooting market – a P226 that is Production Division approved and ready to go out the door.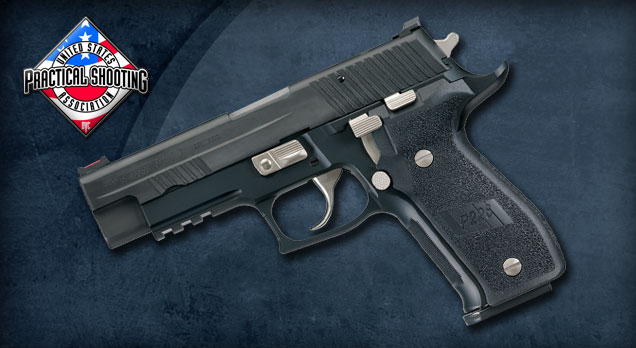 The Sig Sauer P226 USPSA edition comes from the factory with a Dawson fiber optic front sight, and Warren Tactical rear sight.  The Warren Tactical rear sight is the most popular sight in the Production division, whether it's a Glock, a Smith & Wesson M&P, or a Sig P226.  The Warren Tactical sight provides a deep and wide rear sight channel which allows the most light possible around the front sight, creating a fast and accurate sight picture with a wide field of view.
The P226 USPSA edition also features Sig's SRT, or Short Reset Trigger – this trigger maintains the safety and reliability of the double action/single action operating system found on Sig Sauer pistols, but shortens the reset by 60% allowing for faster follow up shots during competition shooting.  The P226 USPSA is available in two finishes, the black with nickel accents or stainless with black controls.  A "nice touch" feature on the Sig Sauer P226 USPSA is the slide engraving – every one of these pistols is engraved with the USPSA logo; and a portion of the proceeds of each pistol's sale are donated to USPSA to help further the shooting sports with educational and training programs.
The Sig Sauer P226 USPSA has an MSRP of $1,246, however actual street price is usually right around $1000.  While it carries a much higher price point than some of the competitor Production ready guns on the market, the P226 USPSA definitely wins the style battle.  If you're like me and you prefer the DA/SA trigger set up, this is a definitely a great gun to shoot competitively with!