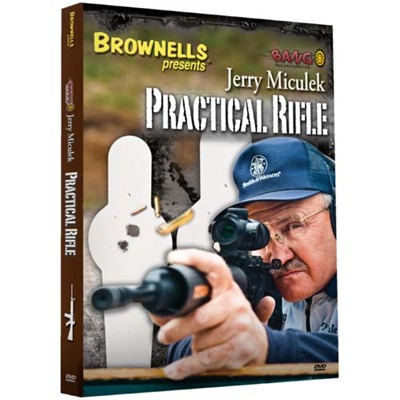 I've had a copy of Jerry's Practical Rifle DVDs sitting on my desk for quite some time, and I'm finally getting down to watching them. I will have further updates to this post once I actually view the DVDs!
I'm watching the DVD now, and in the first one he's covering a lot of technical info on the AR series rifles. Here's something I didn't know: if you shoot a lot of frangible ammo in your AR, you'll need a twist rate that is faster than you'd expect for the bullet weight. A frangible round weighing 55 grains is much longer than a standard 55 grain round, so that faster twist rate is necessary to stabilize the gun.
Just wrapped up the first DVD. The first disk was very basic, covering everything from the components of the AR rifle up to the basics of sight picture, trigger control, and stance. For experienced competitors, disk 1 is okay to skip – however if you're new to the AR rifle or competition shooting, it's definitely a "must see" to gain an understanding of the fundamentals of the rifle.
Disk 2 takes a more in depth look at running the gun itself.  The best part is that it uses a gradual approach, starting with mounting the gun and firing single shots, then multiple shots one target, multiple targets, and so on.  Also included in the second DVD are tips on reloading and various shooting positions.  The nice thing about the series is that each DVD is broken down into easy to watch segments.  So if you're a new shooter you can pop it in, watch the "reloading" segment, and then practice reloads based on what you saw.
The third disk covers some advanced techniques on the rifle, but again if you follow the iterative approach from the first two disks nothing in the third disk will be too challenging or difficult.  Personally though, the best part of disk three for me is the extended interview with Jerry where he talks about stage breakdown and match strategy.  The opportunity to listen to one of the all-time greats talk about how he breaks down a stage is something that every competitor can benefit from, whether you're a D class shooter or in the hunt for your GrandMaster card.
My favorite part was where Jerry talked about his strategy on the first stage of the match.  He said that on stage 1, he's in pure survival mode.  Don't worry about the time, because it will probably be the worst stage you should that day – and that's something that I've experienced myself.  My first stage is usually the stage where I'm the most nervous and amped up…which usually means I end up not shooting it as well as I'd like.  I'm going to try Jerry's advice next match and see what happens!
The Jerry Miculek Practical Rifle DVD is a great package for beginning and experienced shooters alike.  It doesn't matter if you're learning to shoot your AR15 for the first time, as the DVDs are broken down so that it's easy to follow – or if you're an experienced shooter.  Jerry says that you start to get stagnant as a shooter once you accept a technique as "good enough"  – so it's worthwhile to tinker with new ideas if you're a veteran competitor.  Now that I've watched them, I need to saddle up and do some rifle shooting!
Thanks to Brownells for providing a copy of the DVDs for me to review.