If you read my previous post discussing the first 50 rounds fired through my Dan Wesson ECO you will know that it malfunctioned 12 times within the first 30 rounds.  This only proves that you should qualify any gun you hope to conceal carry or use in defensive of a life.
I hope this does not apply to the readers of Gun Nuts, but some people actually buy a firearm for self-defense, throw it into a cheap nylon holster (separate issue), load it up with some ammo and proceed to carry it, secure in the belief it will act as a talisman and keep them safe.
The simple fact is you must vet any weapon slated for defensive purposes.  I actually know of a person that bought a Colt Defender in 45 ACP and shot one mag out of it before carrying it.  I was there and his target, which was shot at three yards, looked like he had thrown 45 caliber buckshot at it!  Fast forward 18 months and we did our CCW renewal together.  Out came the Colt Defender and a malfunction fest and an example of poor marksmanship followed.  It was all the ammo's fault of course.  There was no way it was related to a lack of never applying lube to the weapon, not breaking it in or a total lack of fundamentals.
This brings up another point – sight regulation versus your carry load.  If you don't test fire the gun with your chosen carry load, how do you know the sights are even remotely close to point of impact?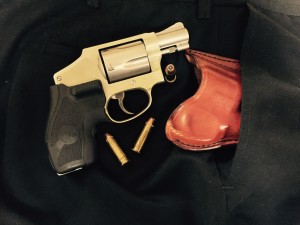 Look, as gun nuts (as in people who love guns, not this site) we often lose sight of the fact that many people who buy a weapon do so for protection and are not seeking a new hobby.  It is very easy in our rabid enjoyment of the hobby to scare them away as we suggest they should shoot weekly, or lead them to believe they must become some Rambo type person.  People seeking only protection do not need to become enveloped in the gun hobby any more than I need to get enveloped in golf.  We must temper ourselves with reality and try using some understanding (dare I say empathy) when trying to help them.  We need to ask ourselves, "Where they are coming from?"
Then and only then can we begin to offer meaningful suggestions; such as the need to break-in and prove the reliability of their chosen self-defense firearm.   The requirements of that break-in and reliability testing are not the scope of this article. That is wholly dependent on the gun type, the gun and ammo manufacturer, and the testing results, as trends develop.
The facts are simple – any gun can malfunction at any time, but it is better to have some confidence of past performance then be completely ignorant to the guns capabilities.
If you know of someone who falls into the "from the box to the concealed holster" camp, you might try to bring them around.  Just don't expect them to become a gun nut.