Here is the fourth and final installment of Project Lumen.  I reviewed two lights this time and was able to draw some conclusions.  I am 100% glad I did this test and I highly encourage each reader to perform similar testing in your home.  It only takes 3-4 minutes each morning and you be rewarded with honest data, for your situation, which you can use to make better choices.  As I have said twice before, don't fall into the trap of presumption.
Maglite 3D Cell Incandescent:
This is the only flashlight tested that doubles as an assault weapon.  It could literally be used to bludgeon a person to death.  Once upon a time they were considered bright; that time has long passed.  A quick check of the Maglite website shows that they now make better LED versions – good for them.
Let's be frank; nothing I am about to say about the Maglite will surprise you or be a revelation.  I chose this flashlight based both on its universal familiarity and universal obsolescence.  How am I sure it is obsolete?  Here is a true story proving the point.
The head the inspection department where I work owns a really, really old 2 D Cell Maglite.  He was having issues with it so he called up Maglite.  They actually told him it was obsolete and he should really consider an upgrade.
With the Maglite, I didn't expect greatness, and my expectations were met.   When I first turned it on the night before the test, it was so dim I suspected the batteries were bad.  I broke out some brand new Energizer D cell batteries and was less than impressed when the light was still dim.  I swapped out the bulb with the spare in the tail cap – no joy.  These are the flashlights that time has forgotten.
At around 45 lumens the light output is similar to the Streamlight Microstream.  But unlike the other incandescent lights, the Maglite cast a nice pattern of light.  And with a Maglite you can adjust the focus, so there's that.  The Maglite didn't affect my night sight at all, it was serviceable and in use everything I wrote about the Microstream applied.  With one exception – you can always use the Maglite as a striking weapon, or a baseball bat.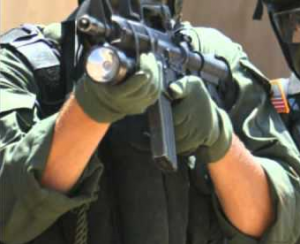 I shudder thinking about the early nineties when those on the cutting edge of military and police had to tape a heavy and dim Maglite to their weapon.  Hooray for technology!
Nitecore SRT3 (CREE XM-L2 T6 LED, 550 lumens)
The brightest of the flashlights I tested, this is also the one I poo-pooed in the review I wrote.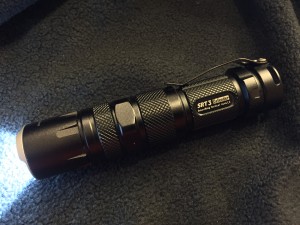 CREE XM-L2 LED, 550 lumens, and a properly designed reflector meant this light provided the best illumination of the test.  When regarding the light quality and effect, during this test…bravo.  Nevertheless, I continue to find the actual light itself to be underwhelming in design.
Similarly to the Streamlight PolyTac, which was the second brightest light I tested, at initial activation the brightness of the flashlight did affect my night sight briefly, although it was shorter period of time than I experienced with the PolyTac.  This test not being performed in a  controlled lab, this difference could have been due to a multitude of reasons: how deep I was sleeping, ambient light, where the light was pointing at initial activation.  As I noted before; when you are trying to identify someone inside of your house any delay is a negative.  But in this case I believe the good outweighs the bad.
As with the PolyTac, there were no weird shadows; just even light across the area of coverage.  It just worked.  If the flashlight itself was more reliable it would be my only choice.  I will start saving for a brighter Streamlight or SureFire.  Until the, the PolyTac is my light of choice.
Streamlight Stinger:
I couldn't get it.  Therefore it wasn't tested.  Sorry.
After Thoughts:
Here is what this test has shown me, opened my eyes too and even shed some light on.  Man, that is a lot of light puns in one sentence.
It would seem to me, at least in my environment, that reflectivity of light affecting your night sight is a real concern. At least for a brief period of time following the initial activation of the light.
I also feel reflectivity is grossly over-exaggerated.  For the purpose of "bump in the night" defense.
Be realistic with your environment. Are you only purchasing the light for protection inside of your house?  If so, you can likely get away with less lumens than some might recommend.
It is important to remember that your worst case scenario will have you half-asleep. An LEO or MIL will have a worst case scenario where they are clearing a building or other environment while wide awake and alert.  You don't have that luxury.  Don't chose poorly based off unrealistic needs.
I feel 130-150 lumens is the absolute minimum you need for a defensive flashlight.
The more lumens the better, provided you actually TEST what you own in your situation.
There was no testing against smoke or fog. As Gun Nuts Commenter JNZ correctly noted, an incandescent light source might penetrate smoke or fog better.  (That sounds like the making of a test around a bonfire)
There is no free lunch. Chose one that works for you and practice accordingly.
In the end I had some fun doing this testing.  I learned quite a bit, both about my personal requirements and my environment.  While the expert stranger on the internet might disagree with me, I will sleep soundly knowing that I have actually tested my options and selected the best choice for me based on fact.  I recommend you do the same.